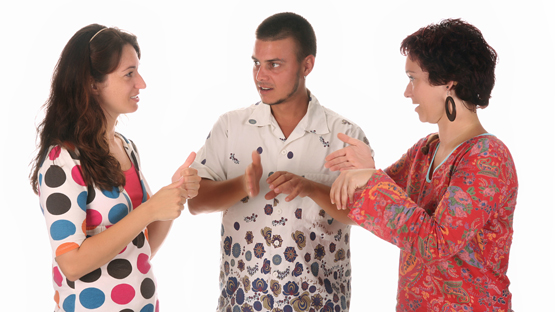 Program Overview
The A.S. in ASL-English Interpreting at Miami Dade College prepares you to work at an entry level as a sign language interpreter and to transfer to a bachelor's degree in ASL-English Interpreting in order to attain national certification.
The program emphasizes community involvement as a way to sharpen proficiency in American Sign Language (ASL) and encourage its students to become leaders in the interpreting field. The program has defined ASL proficiency standards to ensure preparation for interpreting. This course of study culminates with an internship experience.
Program Details
This program uses evidence-based approaches to teaching ASL and interpreting skills to ensure its methods are effective. Half of its faculty are deaf, native users of ASL.
Candidates with no experience in ASL may start with ASL 1140C ASL 1 and work their way up. Candidates who have some exposure to ASL, such as in high school or with family members, may start with ASL 1150C ASL 2.
Students who have taken ASL 1 and ASL 2 at other institutions should contact the department for an evaluation of their skills and readiness to take ASL 2160C, ASL 3. Evaluations are conducted twice during the academic year. Students must also possess college-level reading, writing, speaking, and listening skills in English.

Career Prospects
Sign language interpreters can expect to find employment in the following areas:
Legal
Medical
Education
Government
Positions associated with this degree include:
Interpreter Translator
Community Interpreting
Education Interpreting
Video Relay Service
Program Location