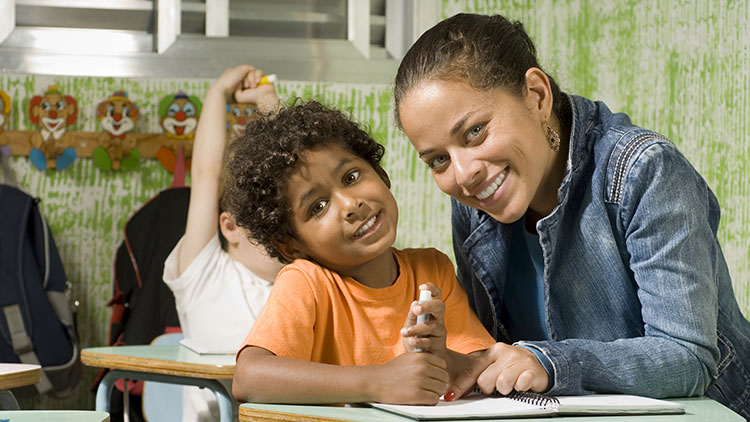 Program Overview
Two weeks -- that's how long it takes to complete the training required to become a Temporary Instructor for Miami-Dade County Public Schools.
The Temporary Instructor Training course includes the following:
Knowledge of district policies and procedures addressing school safety and security protocols
Educational liability laws, ethics, and professional responsibilities
Courses for Fall 2019
Start on your path to a rewarding career as a Miami Dade County Public Schools Temporary Instructor. Choose from morning or evening classes.
Eduardo J. Padrón Campus

| Class Number | Weeks | Days | Time |
| --- | --- | --- | --- |
| 9655 | 9/7 – 9/14 | Saturday  | 9:00 am – 4:00 pm |
| 9656 | 9/21 – 9/28 | Saturday  | 9:00 am – 4:00 pm |
| 9658 | 10/5 – 10/12 | Saturday  | 9:00 am – 4:00 pm |
| 9657 | 10/19 – 10/26 | Saturday  | 9:00 am – 4:00 pm |
| 16298 |  12/7 – 12/14 | Saturday  | 9:00 am – 4:00 pm |
Hialeah Center

| Class Number | Weeks | Days | Time |
| --- | --- | --- | --- |
| 11809 | 9/7 – 9/14 | Saturday  | 9:00 am – 4:00 pm |
Homestead Campus

| Class Number | Weeks | Days | Time |
| --- | --- | --- | --- |
| 10174 | 10/5 – 10/12 | Saturday  | 9:00 am – 4:00 pm |
| 9669 |  11/16 – 11/23 | Saturday  | 9:00 am – 4:00 pm |
Kendall Campus

| Class Number | Weeks | Days | Time |
| --- | --- | --- | --- |
| 10400 | 9/21 – 9/28 | Saturday  | 9:00 am – 4:00 pm |
| 10145 | 10/19 – 10/26 | Saturday  | 9:00 am – 4:00 pm |
MEEK Center

| Class Number | Weeks | Days | Time |
| --- | --- | --- | --- |
| 10025 | 9/7 – 9/14 | Saturday  | 9:00 am – 4:00 pm |
North Campus

| Class Number | Weeks | Days | Time |
| --- | --- | --- | --- |
| 3552 | 10/5 – 10/12 | Saturday | 9:00 am – 4:00 pm |
| 10026 | 10/19 – 10/26 | Saturday | 9:00 am – 4:00 pm |
| 10217 | 11/16 – 11/23 | Saturday  | 9:00 am – 4:00 pm |
Wolfson Campus / Gibson Education Center

| Class Number | Weeks | Days | Time |
| --- | --- | --- | --- |
| 10224 | 9/7 – 9/14 | Saturday  | 9:00 am – 4:00 pm |
| 10691 | 10/5 – 10/12 | Saturday  | 9:00 am – 4:00 pm |
*Wolfson Campus / Gibson Education Center location: 3629 Grand Ave. Miami, FL 33133