Welcome to TRIO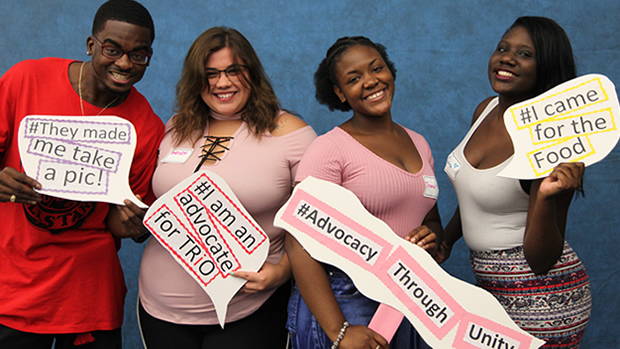 Welcome to TRIO Student Support Services (SSS) at Miami Dade College, Homestead Campus! We are committed to helping students achieve their academic and personal potential through personalized guidance. This includes assistance with goal identification and completion, financial literacy as well as additional wraparound services (i.e. community service provider referrals). The program offers a diversity of events that appeal to a variety of personal, educational and career interests. SSS aspires to help participants prepare for professional success through activities that focus on the development of academic, professional, organizational, and leadership skills.
About the Program
"The Federal TRIO Programs (TRIO) are outreach and student services programs designed to identify and provide services for individuals from disadvantaged backgrounds."
TRIO Student Support Services (SSS) is a program funded by the U.S. Department of Education.  TRIO SSS aims to increase college success rates with the ultimate goal being the completion of a post-secondary education (obtaining Bachelor's degree at MDC or by transferring to another four year institution).  With early intervention strategies and additional services in areas such as academic advising and mentorship, those that have been accepted into the program, will be better able to develop their short and long term goals. SSS also offers educational and cultural enrichment activities, professional development workshops, internships, service learning, and tutoring. 
Program Services
Individualized Education Planning
Career and Personal Counseling
Peer Mentoring
Financial Aid Counseling
Community Service Experience
Academic Advisement
Seminars (Study Skills, Organizational Skills, Resume Writing, Interviewing Skills)
Workshops (Stress Management, Yoga, Effective Communication, Conflict Resolution)
Leadership/Professional Development
Transfer Assistance