"Education is the most powerful weapon which you can use to change the world"
About RISE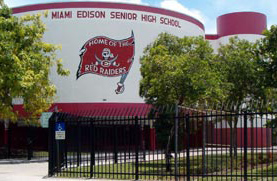 Upward Bound is a federally funded, U.S. Department of Education equal educational opportunity program. Specifically, RISE, Upward Bound, is a college preparatory program for low income and educationally disadvantaged high school students.
The Raiders' Initiative for Success and Excellence, at Miami Edison Senior High, will help 60 participants each year to complete high school, and then matriculate to and graduate from a post-secondary institution.
86% of Upward Bound Students, who graduated from High School, enrolled in college in 2013-2014.
Source: 50th Anniversary of Federal TRIO programs, U.S. Department of Education.
---
Contact Information
Kelvin Laurore
Upward Bound Success Coach
305-377-7230
klauror1@mdc.edu
---
Elizabeth Quizena
Upward Bound Program Director
305-237-7090
equizena@mdc.edu