Map & Directions
How to Find Your Room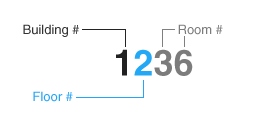 ---
West Campus Parking
Visitor's Parking
Visitors are asked to pick up a Visitor's Pass at the Public Safety Department located on the 1st floor of Building 1 - Room 1101.
Visitors should contact the Public Safety Department in advance to request a pass. Passes are available Monday - Saturday, 8 a.m. - 7 p.m.
Student Parking
Students attending the West Campus can park in the new parking garage. A student parking decal is required for parking.
Parking Decals
All non-visitor vehicles must have a valid MDC parking decal prominently displayed on the rear bumper or rear window of the vehicle. No back-in parking is allowed. Decals available free of charge. Get your parking decal here.
Employee Parking
Parking is available on campus for faculty and staff.