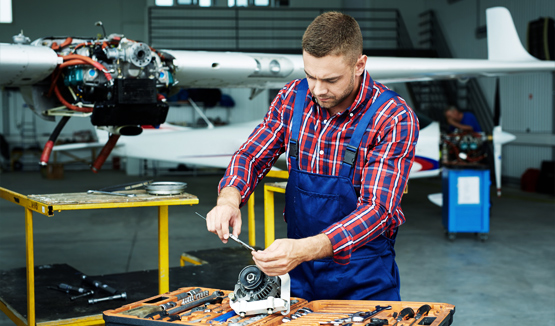 Program Overview
According to Boeing's 2016 Pilot and Technician Outlook, the aviation industry will need well over half a million maintenance technicians to repair and maintain the worlds quickly growing fleet of jetliners. With FAA predicting consistent growth in Revenue Passenger Miles over the next 20 years, the need for people keeping aircraft in the air is expected to grow along with the need for those who will handle or direct this maintenance.

Airlines all over the world are increasing the number of planes they fly and Miami International Airport is one of the busiest airports in the world for cargo traffic. In South Florida and around the world,​ the aviation maintenance industry is looking to employ candidates who not only have their A & P Certification but also those who have aviation management training.

Program Details
The Aviation Maintenance Management degree is a special program of study in which 45 semester hours are awarded to students who possess the Federal Aviation Administration Aircraft and Powerplant (A&P) license. Students are strongly encouraged to obtain their A&P license prior to enrollment. If students do not have their license, they will have to take those courses at a different educational institution and transfer them back to MDC. Those students who enter with their license must complete an additional 38 required credits to obtain the Aviation Maintenance Management Associate in Science degree.
Keeping aircraft in the air requires a well-rounded professional who is trained and knowledgeable in a number of areas. Aviation Maintenance Management students will gain insight into aviation law at local, federal and international levels. They will learn about the aircraft dispatcher and flight crew duties, their responsibilities and the physical facilities they use to perform their duties.
Students will also gain insight into the business policies and the functions of management in airline operations.. When learning about airline marketing, the student will explore the differences between market research, demand analysis, advertising and promotion, sales, traffic, and the theory of price determination. They will also cover aspects of the professional image needed for any airline position involving regular contact with the traveling public.
Career Prospects
In this program, students learn essential computer concepts and skills as well as how to use, current software applications. The program also cover aspects of the professional image needed for any airline position involving regular contact with the traveling public. Additionally, students receive direction and guidance in career planning including job search education and training requirements, resume writing, business etiquette, interview skills and follow-up techniques.
This course of study prepares students for employment in these areas, among others:
Air Traffic Controller
Aviation Customer Service
Private Pilot
Airline Management
Mechanic
Technician
Program Location