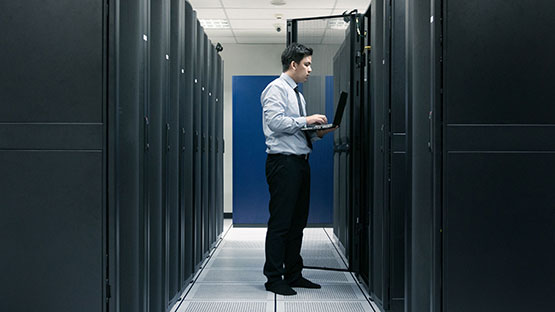 Program Overview
The Associate in Science in Networking Services Technology immerses students in the field of network design and administration.
The Enterprise Cloud Computing track enables students to apply their network skills to the cloud-based application, positioning themselves as valuable candidates in today's job market. Through a collaboration with Amazon Web Services (AWS), MDC offers a cloud-related curriculum that provides students with the opportunity to develop expertise and stay on top of rapidly changing technologies.
The Enterprise Cloud Computing Track curriculum prepare students to earn not only an academic credential, but also recognized industry certificates such as the AWS – Solutions Architect Certificate, which will prepare students to work as computer systems analysts – technicians that assist organizations that are transitioning their systems to cloud computing.
Program Details
The Enterprise Cloud Computing Track is designed to provide an opportunity to establish a foundation in architect-scalable, highly-available application solutions that leverage cloud computing services, utilizing best practices that focus on Cloud security, cost, and reliability. Graduates will utilize core design patterns and infrastructure expertise to implement solutions to deploy and maintain workloads and applications. This Enterprise Cloud Computing Track focuses on broad, transferable skills and stresses understanding and demonstration of the following elements of Cloud computing:
Areas of Study:

Cloud Fundamentals
Cloud Infrastructure and Services
Networking Technologies
Database Concepts and Design
Linux
Server Configuration and Administration
Career Prospects
Graduates may find employment in job roles such as:
Cloud Solutions Architect
Cloud Computing Analyst
Cloud (Network) Engineer
Cloud Administrator
Cloud Application Architect
Computer Systems Analyst
Program Location