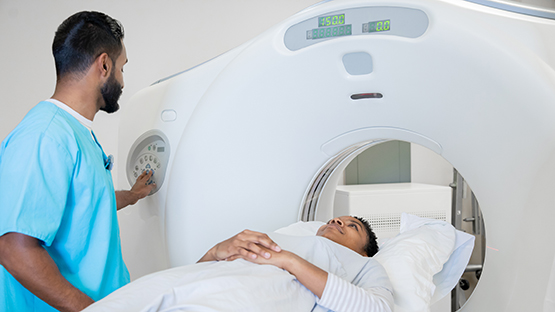 Program Overview
The Computed Tomography certificate program prepares already licensed Radiologic technologist, Nuclear Medicine Technologist, and Radiation Therapy Technologist to become Computed Tomography (CT) technologist.
Short Program Time

This program takes 1 year or less.
Program Details
The Advanced Technical Certificate in Computed Tomography program is a 9-credit hour program to prepare already licensed Radiologic Technologists, Nuclear Medicine Technologists and Radiation Therapy Technologists to become Computed Tomography (CT) Technologists. Students will acquire knowledge of CT scanning technology to include history and development, equipment, terminology, patient preparation and care, principles of image formation, acquisition and production.
Furthermore, they will learn how to identify cross-sectional anatomy as it appears in CT scanning to include normal anatomic structures of the head, neck, thorax, abdomen, pelvis, spine and extremities in multi-planar sections. The program content will follow the American Society of Radiologic Technologists (ASRT) curriculum to prepare program completers for the American Registry of Radiologic Technologists (ARRT) certification examination in Computed Tomography.
Areas of Study:
Cross Sectional Anatomy
Principles of Computed Tomography
Program Location
Questions about this or other programs at the Medical Campus?
Visit our virtual room to speak to an advisor. No appointment is necessary.
New Student Center - Room 1113
Monday - Thursday, 8 a.m. - 7 p.m.
Friday, 8 a.m. - 4:30 p.m.
Medical Campus address and directions