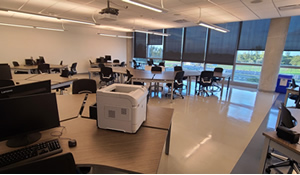 Kendall Campus - Business Resource Center
Business Tutoring Lab
Phone: 305-237-2283

Email: BusinessLabKendall@mdc.edu

Location: R448 (Building R – 4th Floor)
   Walk-in/Study Hours:
       Monday - Thursday: 9:00 AM - 4:30 PM; Friday - Sunday: Closed
Tutoring available for these Business Courses:
ACG2021/71 - Financial/ Managerial Accounting
ECO2013/23 - Macroeconomics/Microeconomics
QMB2100 - Business Statistics
MAN3506 - Operations Management
MTB1103 - Business Math
Description of Services:
In Blackboard Collaborate. Appointments required (can be scheduled by phone, email, or in-person in R448).
In-Person One-on-One Tutoring (R448)
Appointments suggested; not required. Tutor availability can vary weekly. Facial coverings strongly encouraged and appreciated (we can provide them).
Study Area
Large tables, comfortable chairs, and mobile whiteboard for individual or group study. Bring your own computer or use ours (desktop or laptop). Study area not always quiet, so headphones may be needed (we can provide them).
From our computers only (10 free B&W pages available per student per day).
Business Textbooks
Hard copies of many current business textbooks available to use in the lab.