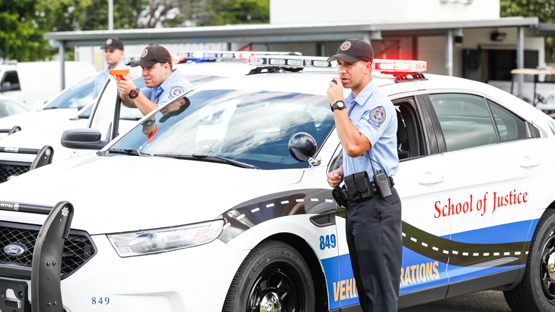 Program Overview
The Department of Homeland Security, Transportation Security Administration (TSA) has identified national Homeland Security education requirements for their employees. In response, MDC's School of Justice has launched the Homeland Security College Credit Certificate. The industry-sanctioned program consists of five college courses in Homeland Security and Criminal Justice. The courses are designed to enhance the knowledge and skills of TSA employees and other individuals interested in public safety. Credits from the College Credit Certificate can be applied towards an Associate's degree in Criminal Justice. Students can continue their education and the Bachelor's degree in Public Safety Management.
Quick Facts
Students will gain authentic experience through rigorous and integrated national security and intelligence studies curriculum
Students will be prepared to work in homeland security and other criminal, justice, legal, or public service-related fields
Program Details
This certificate program requires fewer credits than an A.S. degree and functions as an entry-level credential when entering the workforce. College credits granted with this certificate apply toward a related A.S. degree. Students may stack credentials to advance toward a higher degree level.
Students will be prepared to work in homeland security and other criminal, justice, legal, or public service-related fields. The program also provides initial or supplemental training for persons previously or currently employed in these occupations:
Law Enforcement Agencies
Correctional Institutions
Risk Management
Program Location