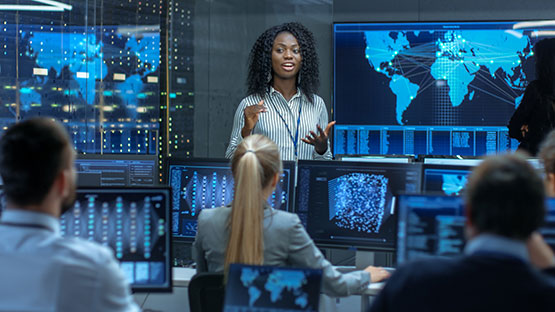 Program Overview
The Bachelor of Science in Information Systems Technology introduces concepts upon which information systems are founded and analyzes them as solutions to real-world problems. The curriculumm provides students with the critical skills and knowledge required to direct and control the design, planning and management of information infrastructures in professional settings. This degree program addresses the workplace need for professionals with information systems management and development expertise.
Concentrations
There is only one Bachelor of Science in Information Systems Technology. Students may choose one of three program Concentrations: Application Development, Cybersecurity, or Networking
Cybersecurity Concentration
This concentration focuses on the threats faced by information systems. Students learn how to identify threats against an organization's digital assets, as well as the tools and methods to mitigate those threats. Upon completion of the program, the student will have learned to collect and analyze evidence from Windows and Linux computer systems and to footprint, scan, and enumerate networks, how to hack web applications, wireless networks, and mobile platforms, and how to evade IDS, firewalls and honeypots.
Areas of study in the Cybersecurity Concentration include:
Ethical Hacking (Penetration Testing)
Computer Forensics
Information Security Management
Network Security Management and Operations
Graduates with this Concentration will be eligible to take exams for the following industry certifications:
Certified Ethical Hacker (CEH)
GIAC Certified Forensic Analyst (GCFA)
Certified Information Security Manager (CISM)
View Additional Concentrations:
Program Details
Students in the B.S. – IST program will learn to create technological solutions that help companies meet their organizational objectives. The knowledge gained may be applied broadly, in a range of professional situations covering information technology, mobile and application programming, systems analysis, cybersecurity and more. Further opportunites may be available for those students who choose to continue their formal education by pursuing graduate degrees in the computer science or information technology fields. Students will learn how to:
Define and analyze information system requirements
Design, implement, and administer effective information technology solutions based on requirements
Identify and apply information technology methods used to protect the confidentiality, integrity, and availability of information and its delivery
Identify and incorporate relevant professional, ethical, legal, and social issues in a technology environment
Career Prospects
Graduates of the B.S. – IST program with a Cybersecurity Concentration may qualify for employment in the following job roles and areas:
Information Technology (IT) Manager
Information Systems Manager
Computing Services Manager
Technical Services Manager
Information Security Analyst
Security Operations Center (SOC) Analyst
Security Manager
Security Specialist
Incident Responder
Penetration Tester
Security Engineer
Security System Administrator
Security Consultant
Program Location