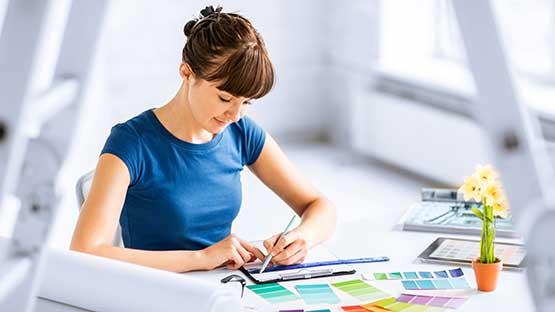 Program Overview
The Associate in Arts Degree in Interior Design is designed to provide students with practical, hands-on training to learn the skills necessary to obtain employment in the highly competitive field of Interior Design. Students will learn to use the latest technologies in state-of-the-art facilities, giving them the knowledge and experience they will need to successfully achieve their academic goals and professional aspirations.
Interior Design studies combine architecture, art and design courses, training the student to understand the relation of interior spaces to the total design of structures (including architecture, landscaping and lighting). An interior designer encounters a variety of challenging work, available in professional, institutional and private settings.
Program Details
This is a pathway program. The AA degree pathway is designed to prepare students to transfer to four-year institutions by providing them with the necessary general education credits and elective courses. Earning an Associate of Arts (AA) degree at MDC guarantees admission into one of the state's public universities where students can complete a bachelor's degree. An advisor will work with you to determine which elective courses will lay the best foundation for your selected major and continued studies.
Topics in this course of study include:
Architectural Drawing
Theory of Architecture
Environmental Technology
History of Interiors
Architectural Materials and Construction
Career Prospects
Continued studies in this field may lead to employment in the following areas:
Interior Designer
Set and Exhibit Designer
Lighting Designer
Program Location