Please note the college is currently working remote due to the coronavirus. To obtain a duplicate score you must:
1. Email nac@mdc.edu to verify that your scores are still valid (scores are valid up to 4 years)
Once receiving confirmation for a AC staff member:
2. Complete a FBAT Payment Form and submit it to northbursars@mdc.edu.
Once payment has been completed, email the confirmation email from northbursars@mdc.edu to nac@mdc.edu, with your name and telephone number. Results will be delivered via email and are password protected. The last 4 digits of your social security will be the password.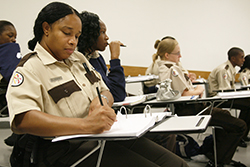 The FBAT is no longer offered. All Law Enforcement & Correction applicants are required to Pass the FDLE Basic Abilities Test Exam.
The CJBAT, developed by Industrial/Organizational Solutions (IOS), Inc., measures the defined "minimum competencies" in three separately-timed sections as follows: Section I - behavioral attributes; Section II - memorization; and Section III – written comprehension, written expression, deductive reasoning, and inductive reasoning. In total, there are 97 questions on the CJBAT. You will have 1 ½ hours (90 minutes) to complete the exam.
Find out more about the FDLE Basic Abilities Test Exam at the Pearsonvue website.
FBAT Duplicate Score
Duplicate copies are still available for those candidates that tested on or before August 14, 2019. You may request a duplicate copy in person at your local F-BAT testing department for an additional fee. Please contact your local FBAT Testing Center for pricing. If you would like to purchase a duplicate copy from Miami Dade College North Campus, you have two options:
1. To pick-up
If you pick up with duplicate test score at the FBAT Department, the cost is $10.00. Please follow the steps outlined below:
Step 1: You will first have to pay for the duplicate copy at the Miami Dade College, North Campus, Bursar's Office, Building 1, Room#1154 (305-237-1287). The cost: $10.00 payable in cash, credit card or money order. This fee is non-refundable and non-transferable.
Step 2: Once you have paid you must bring your payment receipt to the Assessment Center located in Building 8, Room 8324 with a valid government issued id.
2. To receive an Electronic Copy:
The cost is $15.00. This fee is non-refundable and non-transferable. Download the FBAT Electronic Score Request Form and mail it along with a copy of your government issued id and a $15.00 money order payable to Miami Dade College to the following address:
Miami Dade College, North Campus
School of Justice Assessment Center, Room 8324
11380 NW 27th Avenue
Miami, FL 33167-3495
Upon receipt of your FBAT Electronic Score Request Form, id, and your money order, we will send you the score via email to the email provided. If you have any questions please call 1-800-237-8910 or e-mail us at nac@mdc.edu.