When public safety management comes first, we're the first choice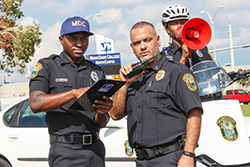 Civil society depends on law and order. With this public safety management degree from Miami Dade College, you will be equipped to serve and protect.
The School of Justice at Miami Dade College is nationally recognized for its academic excellence and exceptional training. MDC's Bachelor of Applied Science in Public Safety Management is a one-of-kind degree, combining rigorous study with practical hands-on experience. The program offers applied tracks of study encompassing a variety of components that prepare students for both a career entry and graduate school. Students may choose from these tracks: Crime Scene Investigation or Criminal Justice.
Applied Tracks
Crime Scene Investigation
Criminal Justice
Online Degrees Available
The upper division courses are offered in an accelerated option of 8-week terms.
Students may enroll in a fully online program or combine on-site with online classes.