---
COVERSTORY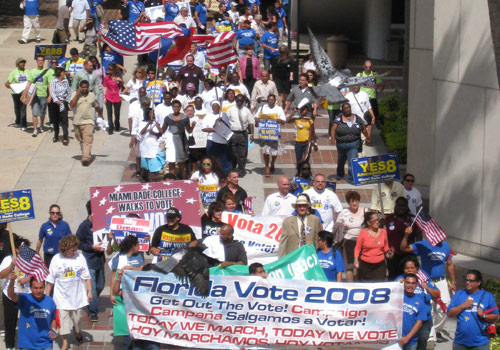 Miami-Dade voters show their support for Miami Dade College
Nearly two-thirds of all Miami-Dade County voters cast ballots in favor of Amendment 8.
Voters in Miami-Dade County overwhelmingly approved an amendment to the state constitution that would have created a process for counties to support their community colleges.
In Miami-Dade County, 61.2 percent of voters, a total of 446,617 people, answered "yes" to the ballot question on Amendment 8 in the Nov. 4 general election.
Statewide, the amendment received the support of 43.5 percent of voters, falling short of the required 60 percent for amendments to the State Constitution.
"I am touched by the vast support Amendment 8 received from our community and from so many organizations throughout the county," said Miami Dade College President Dr. Eduardo J. Padrón.
The amendment received endorsements from more than 100 local and statewide organizations, including Florida Tax Watch, various chambers of commerce and the League of Women Voters.
In Miami, students from Miami Dade College as well as faculty, staff and members of the community, rallied in support of the measure, engaged in informational campaigns, and worked near polling places throughout the county on Election Day to ensure voters understood the importance of the measure.
"I cannot express how appreciative I am for all of the selfless volunteerism and educational activism that went on during this campaign," Padrón said.
"The people of Miami-Dade County have spoken. MDC is integral to the future success of our community."
While the amendment was not adopted, Padrón said the College's quest for local supplemental funding is far from over.
"We will join our stalwart Miami-Dade legislative delegation to make an even stronger case in Tallahassee for an avenue for local funding for our beloved college."
— Staff report