---
COVERSTORY

Class of '08 Gets a World-Class Send-Off From Global Leaders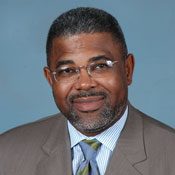 Bill Diggs, president and CEO of the Miami-Dade Chamber of Commerce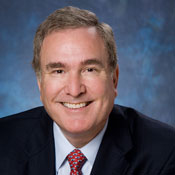 Richard D. Fain, chairman and CEO of Royal Caribbean Cruises Ltd.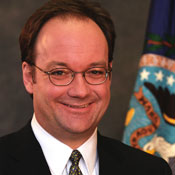 Dr. John J. DeGioia, president of Georgetown University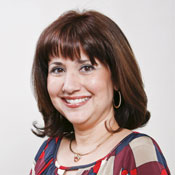 Liliam López, president and CEO of the South Florida Hispanic Chamber of Commerce
The first female speaker of the House of Representatives, a popular Central American president and a cabinet member in the Bush Administration top the list of speakers set to bid adieu to the 2008 graduating class of Miami Dade College.
House Speaker Nancy Pelosi will deliver the commencement address to graduates of North Campus while U.S. Secretary of Education Margaret Spellings is set to speak at the Kendall Campus ceremony. Elías Antonio Saca, president of El Salvador, will deliver parting words to the Wolfson Campus class.
Four other high-caliber speakers will join them on the 2008 commencement schedule. InterAmerican Campus will welcome Dr. John J. DeGioia, president of Georgetown University. Richard D. Fain, chairman and CEO of Royal Caribbean Cruises Ltd., will speak at the Medical Center Campus ceremony.
Bill Diggs, president and CEO of the Miami-Dade Chamber of Commerce, and Liliam M. López, president and CEO of the South Florida Hispanic Chamber of Commerce, will speak to the graduates of Homestead and Hialeah campuses, respectively.
"Commencement is a day of triumph and a doorway of possibility. Our students confirm the priceless worth of educational opportunity," said MDC President Dr. Eduardo J. Padrón.
Speakers Mirror Student Diversity
Nearly 9,000 students are scheduled to don cap and gown for the event that marks the culmination of study at the College. Students receiving bachelor's and associate degrees, along with college certificates, will participate.
The demographics of the graduating class reflect the diversity of South Florida. Sixty-two percent are Hispanic, 23.4 percent are black non-Hispanic, 11 percent are white non-Hispanic, and nearly 2 percent are Asian, Hawaiian, from the Pacific islands or Native American.
The average age of a member of the class of 2008 is 28. Forty-nine percent of students said their native language was not English, and 37 percent are not U.S. citizens.
Women outnumber men 60 percent to 40 percent.
Fittingly, the speakers who will send these students into the world are equally diverse. They represent different political parties and a variety of racial and ethnic backgrounds.
And in keeping with MDC's tradition of excellence, they are all impressive and inspirational.
Since 1987, Pelosi has represented California's 8th District in the U.S. House of Representatives. She made history when she was elected by her colleagues in the fall of 2002 as Democratic Leader of the House of Representatives. She reached another milestone when she was tapped as House Speaker.
Pelosi continues to be a leader in increasing educational opportunity, defending workers, promoting health care and protecting the environment at home and abroad. She has also long been an advocate for human rights. Hailing from a strong family tradition of public service, she proudly holds the record for longest continuous period of service on the House Permanent Select Committee on Intelligence.
Saca began his career as a sports journalist and later owned a radio station. He joined the Salvadoran Radio Association in the 1990s and became its president in 1997. At the same time, Saca became involved with the ARENA party and joined the International Radio Broadcasting Association, where he chaired the Permanent Committee of Freedom of Speech. He was elected president of El Salvador in 2004, the youngest person to serve in the office.
Spearheading the third-largest economy in Central America, Saca is committed to opening the country to trade and investment and has pursued economic diversification. In late 2006, the government and the Millennium Challenge Corp. signed a momentous multimillion dollar compact to stimulate growth and reduce poverty in the country's northern region through investments in education, public services, enterprise development and transportation infrastructure.
As the U.S. secretary of education, Spellings is working to ensure that every young American has the knowledge and skills to succeed in the 21st century. She has partnered with states to implement and enforce the No Child Left Behind Act.
She has been involved with education policy at every level and aims to make education more innovative and responsive. Spellings and Padrón participated in an educational mission to South America. Additionally, Spellings' under secretary of education, Sara Martinez Tucker, spoke at an MDC commencement last year.
Business and Education Elite
Fain joined Royal Caribbean in 1979 as a member of its board of directors. He became the global cruise ship company's chairman and CEO in 1988.
He is a member of the National Conference for Community and Justice, an organization that empowers leaders to transform communities through institutional change. Fain also serves on the World Wildlife Fund's National Council and is chairman of the United Way of Miami-Dade County.
In 2004, he received the Ultimate CEO Award from the South Florida Business Journal and accepted the Ellis Island Medal of Honor from the National Ethnic Coalition Organization. In addition, Fain was presented one of France's most distinguished awards, the Chevalier de la Légion d'Honneur (French Legion of Honor), and was the recipient of the Anti-Defamation League's Distinguished Community Service Award.
For nearly 25 years, DeGioia has helped to define and strengthen Georgetown University as a premier institution for education and research. As president, DeGioia is deeply committed to sustaining academic excellence. He recruited noted experts to the faculty and secured substantial funding for scholarly research.
To prepare young people for leadership roles in the global community, DeGioia has expanded opportunities for intercultural and inter-religious dialogue, welcomed world leaders to campus and convened international conferences.
He is a member of the U.S. National Commission for UNESCO and serves as a board member of the American Council on Education. He is also a strong supporter of Georgetown's social justice initiatives that seek to improve opportunities for Washington's underserved neighborhoods.
Diggs is responsible for the day-to-day operations of the oldest chamber of commerce with a primary mission of supporting the growth and retention of minority businesses in Florida. Diggs consults with elected officials, as well as CEOs from public and privately held corporations, in order to insure that the minority vendor community in Miami-Dade can thrive. In 2006, the Ronald McDonald House named him one of Miami's 12 Outstanding Men and Miami Today lists him as one of Miami's Top Leaders. In addition, Diggs hosts a weekly radio show and writes a syndicated column in The Miami Herald.
López, a College alumna, cofounded the South Florida Hispanic Chamber of Commerce and serves as its president and chief executive officer. In addition, she is a motivational speaker for several organizations including the Federal Women's Program of the U.S. Department of Justice. She has also created a scholarship program to support Hispanic students from low-income families.
A well-respected business and community leader, López received the 2005 March of Dimes' Building Our Community Award and was named South Florida Business Journal's 2003 Business Woman of the Year.
— Gariot P. Louima and Katherine Adjemian