---
COVERSTORY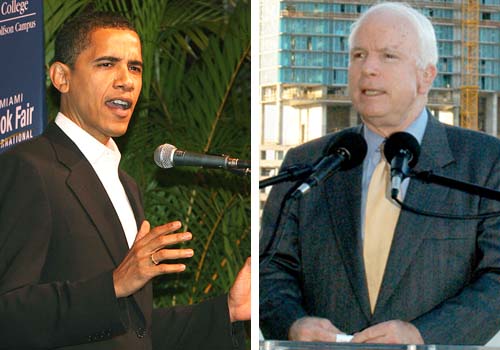 McCain, Obama No Strangers to MDC
On their race toward the Oval Office, Sens. Barack Obama (D-Ill.) and John McCain (R-Ariz.) have both spoken at MDC.
On their multple visits to MDC, both candidates met with students and College leaders and spoke about issues that have become central to the 2008 campaign season, national security, the economy and immigration.
During one visit to Wolfson Campus, McCain spoke to a crowd of more than 1,000 people about the need for comprehensive immigration reform.
He spoke in support of the Secure America and Orderly Immigration Act, one of several immigration reform bills to address border security and illegal immigration while providing a route to legal residency and citizenship for undocumented immigrants living in the U.S.
"We believe that people should be able to earn citizenship," said the senator.
Obama's visit to downtown Miami was a highlight of the 2006 Miami Book Fair International.
Speaking to a capacity crowd in the historic Olympia Theater at the Gusman Center for the Performing Arts, Obama spoke extemporaneously about his book, The Audacity of Hope: Thoughts on Reclaiming the American Dream, which outlines his thoughts on immigration, the war and other issues.
"I'm so impressed when I hear about what this college has done and continues to do in providing a stepping stone for young people throughout South Florida," Obama said.
— Staff Report