---
COVERSTORY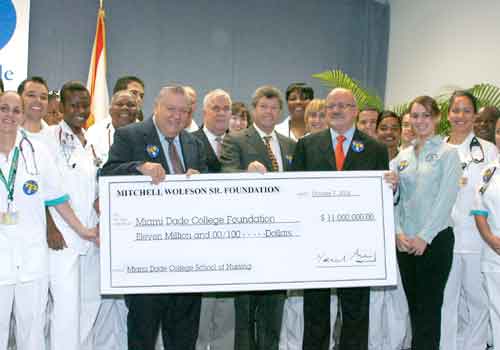 Mitchell Wolfson Sr. Foundation makes $11M donation to MDC
The Mitchell Wolfson Sr. Foundation donated nearly $11 million to MDC, one of the largest gifts ever in the College's history.
The donation, which includes matching funds, is aimed at supporting the School of Nursing by increasing the number of nurses who are trained at the College and placed into the local workforce.
"Our community is in desperate need of qualified nurses," said Louis Wolfson III, a trustee of the Mitchell Wolfson Sr. Foundation and a member of the Miami Dade College Foundation Board of Directors. "It is our goal, indeed our wish, to train local residents for these positions, so that employers do not have to recruit outside the region. By doing this, we will help resolve a crisis and open these great-paying jobs to people who call Miami-Dade County their home."
The unprecedented donation will establish student scholarships and help with instructional costs. In addition, the donation provides for technology initiatives to increase student retention and success. It also helps with licensure exam preparation to assist students with passing their required boards.
"The $11 million donation ... will be used to educate and train, over the next four years, 580 new nurses who will work and live in Miami-Dade County. They will graduate and all secure jobs that will generate a minimum $40,000 a year in salary, which totals $23 million, conservatively," added Wolfson III at a recent press conference. "This will generate well over $230 million into the Miami-Dade County economic engine over the next 10 years."
Over the years, the Mitchell Wolfson Sr. Foundation has donated nearly $90 million to the College, all for scholarships and program support. More than 145,000 scholarships have been awarded as a result of these gifts. This amounts to what is one of the largest collective gifts in higher education in the nation.
— Staff Report