---
COVERSTORY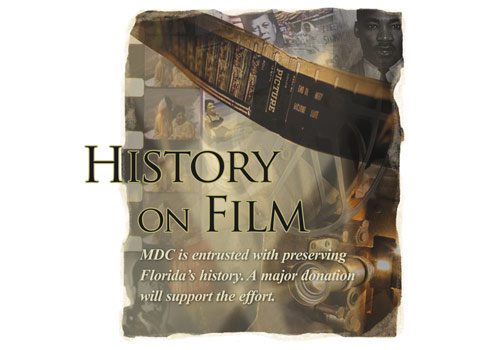 History on Film
In 1963, six years before Neil Armstrong, Michael Collins and Edwin Eugene "Buzz" Aldrin Jr. landed on the moon, the Florida Department of Education produced a video on space technology education. That video, T Minus 15 and Counting, speaks volumes about the innovations in education in Florida at the time. Today, it's part of the nation's largest state archive of video and film: the Lynn and Louis Wolfson II Florida Moving Image Archive. Thanks to the continued stewardship of community philanthropist and activist Lynn Wolfson, that invaluable collection is being entrusted to Miami Dade College.
Louis Wolfson II, Lynn Wolfson's late husband, ran the television and cable division of Wometco Enterprises prior to its sale in 1983. All original footage in the Moving Image Archive was contributed by WTVJ-4, as that was the flagship station of Wometco Enterprises.
Lynn Wolfson, along with the Mitchell Wolfson Foundation, has contributed $7 million to MDC to establish the Lynn and Louis Wolfson II Moving Image Archive Media Center to ensure that all students, filmmakers and the general public will have continued access to this treasure trove of historical materials. The contribution, which includes state matching funds, will go toward the construction of a new, state-of-the-art media center at MDC's Wolfson Campus and establish an operational endowment for its ever-growing expansion.
"These funds will allow the center to expand its capacity to preserve historically important film and video from around Florida and to preserve our heritage for future generations to better understand their past," Lynn Wolfson said. "We look forward to seeing the future growth and expansion of the Archives under the College's leadership."
Lynn Wolfson helped found the Moving Image Archive in 1984, along with broadcast pioneer Ralph Renick and historian Arva Moore Parks McCabe. It is currently housed in the Miami-Dade Public Library System's Main Library. Like no other historical collection in the country, the Lynn and Louis Wolfson II Moving Image Archive Media Center provides students and historians with priceless visual context for major events in American history.
"The Lynn and Louis Wolfson II Moving Image Archive Media Center is a rich and illuminating media record, one that multiplies in value as students and educators pour over this history," MDC President Dr. Eduardo J. Padrón said. "This is what Lynn Wolfson always envisioned and we are very grateful for her leadership, commitment and philanthropy."
— Gariot P. Louima