---
COVERSTORY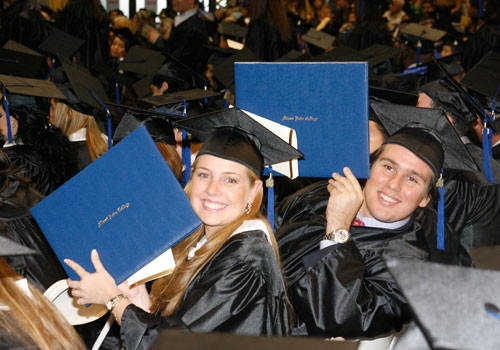 '09 class to get world-class send-off
In the next couple of weeks, Elizabeth Louis has some choices to make about her future. The psychology major – who is set to graduate from MDC with a 3.84 grade point average – has already been accepted to Mount Holyoke, Howard and Drexel universities, among others. She's also applied to Stanford, Vassar and Georgetown.
Wherever she lands, she's sure she's well-prepared to handle the challenges that will come. That's because Louis, who attended classes at North Campus, said MDC gave her the tools to succeed.
While at MDC, she secured an internship with the U.S. Department of Agriculture, an "intellectual experience that gave me a chance for social and personal growth," she said.
As part of her internship, Louis worked at the National Agricultural Library in Maryland and studied how the lack of nutrition affects the mental health of children in war-torn countries. She presented her findings at the internship location and at MDC to library faculty.
"This experience made me more aware of the links between nutrition and education," she said.
It was also another example of the unique college experience provided by her alma mater – the same institution that provided her with the intimate community of The Honors College and study travel opportunities to Salzburg, Austria and Washington, D.C.
On May 2, MDC will offer heartfelt congratulations and bid adieu to the class of 2009 at six commencement ceremonies throughout Miami-Dade County. With "Pomp and Circumstance" blaring and national speakers in tow, the College, its faculty and administrators will send its newest alumni into the world.
MDC will graduate more than 9,000 students. Collectively, this graduating class speaks 45 languages and hail from 106 different countries. Reflecting the diversity of South Florida, 64 percent are Hispanic, 23 percent are black and 10 percent are white, non-Hispanic.
Some, like Louis, will continue their studies at the nation's top academic institutions, while others will join the South Florida and national workforce.
Most graduates – about 71 percent – will earn the Associate in Arts degree. Others will earn the Associate in Science degree or one of MDC's three bachelor's degrees.
In recent years, MDC's commencement ceremonies have been the destination of choice for national leaders like President George W. Bush, Speaker of the House Nancy Pelosi, and Education Secretary Margaret Spellings. Last year, a head of state, El Salvador President Elías Antonio Saca, also spoke at an MDC ceremony.
In the weeks leading to commencement, MDC honored its top students at academic honors ceremonies at each of its campuses.
Louis received North Campus' psychology award. Awards were also given for other academic disciplines, for community service and in special categories, such as athletics.
Homestead Campus graduate Leonardo Hernández was recognized for his achievements in mathematics and finance. Hernández moved to the United States from Cuba five years ago. He spent some time in ESOL classes before preparing for and passing the General Education Development examination at MDC.
When he enrolled in College-level courses, he excelled, ultimately graduating with a perfect 4.0 grade point average. He hopes to one day work in finance in the private sector. For the immediate future, however, he's planning to stay close to home when he graduates from MDC, and is now deciding between several local options to continue his studies, including the University of Miami.
"MDC has a lot of great teachers in all subjects," he said. "Whenever I needed assistance, they were there to help me."
Louis, the North Campus psychology major, echoes the sentiment. Louis grew up in a family without many financial resources and she was the first in her immediate family to go to college. As a child, she said she overcame a stuttering issue. But now that she's graduating with honors from MDC, she wants to be a role model to her younger siblings and to other young people who do not have a lot of resources.
While many of the honorees were members of the Class of 2009, the College also honored first-year students who excelled.
Cecilia Pérez, a student in the Dual Language Honors program at InterAmerican Campus, received the mathematics department award. Pérez, a biology major who is also in the Bridge program, said her first year at MDC has been immensely rewarding. Much of her success, she said, is owed to "very good friends and very supportive professors."
"I put a lot of myself into school," she added. "In order to be successful, you have to be determined and persevere. It's great studying in an environment where everyone has that same understanding."
— Gariot P. Louima and Elizabeth Tracy