---
COVERSTORY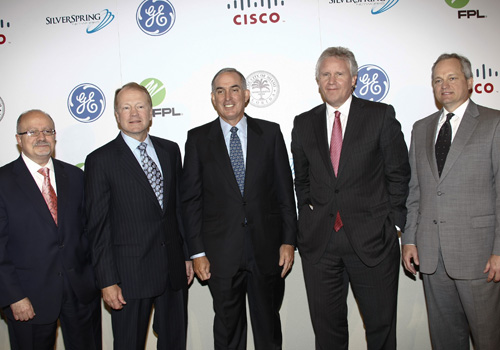 MDC is the lead education partner in Energy Smart Miami initiative
Continuing a nearly 50-year tradition of meeting regional and national workforce needs, Miami Dade College joined with the city of Miami and its corporate partners to launch a multimillion dollar energy initiative.
A project of Miami Mayor Manny Díaz, an MDC alumnus, Energy Smart Miami will tap into federal economic stimulus funds to spur investment in "smart grid" technology and renewable energy over the next two years.
Along with the city and College, corporate partners FPL, General Electric, Silver Spring Networks and Cisco Systems are involved in the venture. MDC will serve as the training arm of the partnership.
MDC already has partnerships with two of the companies. FPL found a creative way to address its operations and staffing needs by joining with MDC to develop the Nuclear Engineering Technician Training Program, a professional training pipeline program now in its third year. And MDC's Cisco Networking Academy Program, a partnership with Cisco Systems, prepares students for industry-
standard certification.
City officials estimate that Energy Smart Miami will generate demand for 800 to 1,000 jobs. The initiative includes a wide range of technologies that improve electricity delivery and help customers better manage their electricity usage.
Through Energy Smart Miami, so-called "smart meters" will be installed in more than 1 million homes and most businesses in Miami-Dade County. Over the next five years, FPL intends to expand the project to a total of more than 4 million homes in Florida. The cost of expanding smart meters represents a $500 million investment.
Also through the initiative, Miami Dade College will receive solar power installations to help meet energy needs with renewable, non-polluting technologies. Battery installations will enable some solar locations to store power for use during times of
peak demand.
And 300 plug-in hybrid electric vehicles will be added to the FPL fleet serving Miami-Dade County. These vehicles will be powered through approximately 50 new charging stations. Additional hybrids will be rolled out in trials at MDC, the city and other public and private institutions.
Mayor Díaz announced the groundbreaking energy initiative at Miami Dade College. In attendance were MDC President Dr. Eduardo J. Padrón; Lewis Hay III, chairman and CEO of FPL Group; Jeffrey Immelt, General Electric chairman and CEO; Scott Lang, chairman, CEO and president of Silver Spring Networks; and John T. Chambers, chairman and CEO of Cisco Systems.
"The Energy Smart Miami Initiative is an investment in the future of our city, our residents and our neighborhoods, and is an important step toward creating the green jobs of the future and building a clean energy economy," Díaz said. "I look forward to working with our partners in the private sector to create a model of putting the economic stimulus plan in action and breaking ground right away."
The project's sponsors are proud to have the support Carol Browner, special advisor to President Barack Obama on energy and climate change. Browner is an MDC alumna. "I commend Mayor Díaz for creating a plan that will put these recovery dollars to work and make Miami a smart grid model for cities across our country," Browner said.
— Staff Report