---
COVERSTORY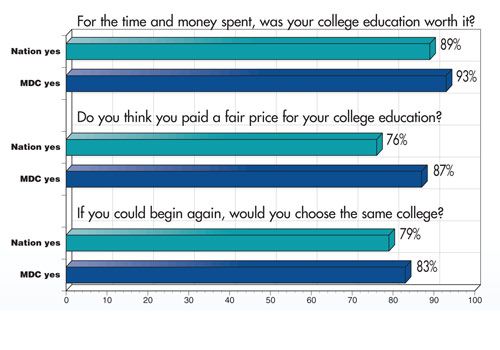 MDC aces exam in alumni survey
Most Miami Dade College alumni would choose MDC again if they were to start over, according to a recent national survey of college alumni conducted by the American Council on Education (ACE). The primary reasons for returning, according to 83 percent of alumni surveyed, were the fulfilling academic experiences they had at MDC, the numerous campus locations they could chose from and the cost of tuition. An even higher percentage had positive feelings about MDC, with 96 percent of those polled saying they had a favorable impression of the college. 
Besides their great experiences at MDC, 71 percent of alumni think the college adequately prepares students for the modern workforce, whereas only 62 percent of those polled about other U.S. colleges felt the same about their institutions. MDC alumni also believe the top three roles of colleges and universities are preparing students for work, teaching them how to think critically and preparing them to solve the country's problems.
"The survey was undertaken by ACE to better understand how college graduates perceive the role and effectiveness of higher education in our society. The results confirm what we already know about MDC and the impact it's had on our graduates and community for the past 50 years. More importantly, the results are a testament to our dedicated faculty and administrators," said Dr. Eduardo J. Padrón, MDC's president. 
"Overall, MDC students consistently rated their satisfaction levels higher than the averages of alumni in the national sample group," added Dr. Joanne Bashford, MDC's associate provost for institutional effectiveness.
MDC alumni also were much more likely than the other alumni surveyed to agree that the price of their college education was fair — 87 percent at MDC compared to 76 percent nationally.
In addition, MDC alumni place more emphasis on the role of higher education in meeting the challenges of the future for both our nation and the world. They are more likely to believe that colleges and universities are prepared for the future than alumni of other U.S. colleges, with 70 percent of MDC alumni having a favorable impression, versus 61 percent of those at other institutions.
"This survey gave us very revealing insights into MDC student perceptions," Dr. Padrón said. "We will use these findings as we continually work to enhance the MDC experience."
— BB