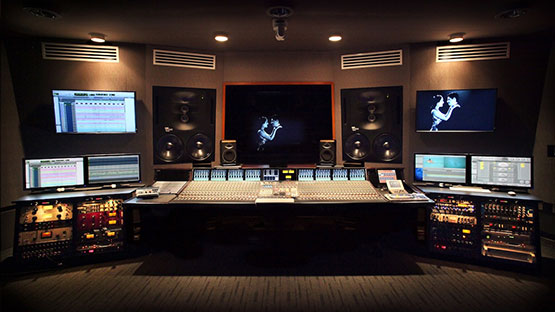 Program Overview
The Music Business Creative Production pathway is the option for students interested in music technology. Often referred to as sound recording, this pathway provides students with hands-on experiences with the machines and software applications associated with audio production. MIDI, sound recording, music theory and other courses are completed within the context of Music Business studies. This course of study specifically includes miking techniques, recording console operations, patch bay functions, audio wiring, audio mixing concepts, and other related course work. This pathway helps students enhance their career possibilities by combining practical music business knowledge with technical experience.

MDC's Music Business programs are designed for students who intend to seek employment in the music business, and are an alternative to traditional music degree programs. The Associate in Science degree in Music Business combines course work that pertains to the music and entertainment industries with related courses and experiences specific to each of our three Music Business pathways.
Hands-on projects, insight from music business professionals and experiences in state-of-the-art facilities empower graduates to obtain the skills and knowledge demonstrated by music business professionals.
Program Details
The A.S. degree is designed for students who are looking for immediate entry into a career upon graduation. Most discipline courses directly relate to the identified career area. The remaining courses are comprised of general education courses.
All music business majors complete course work in general education, music business, small business entrepreneurship, accounting, computer applications and web design. Depending upon their selected Music Business option, students may also complete course work in music performance, sound engineering, songwriting, business law, and other courses specific to their interests.
Each of our three Music Business options concludes with an internship experience within an established professional component of the music industry. The internship experience is an important bridge between academic preparation and career development and may include work in music production, music marketing, music merchandising, artist management, live sound reinforcement, and other facets of the industry.
The curriculum includes:
Recording Studio Techniques
MIDI
Business Law
Small Business Management
Music Marketing
Copyright
Business Plan
Artist Management
Additional Concentrations
Students may select one of three options as a concentration, but there is only one A.S. program and students will be awarded the Music Business degree only once.
Additional concentrations in this degree program:
Career Prospects
Individuals with music business expertise work with record label companies, music publishers, distributors and many others. Those with training in music business can also be found in the fields of live sound reinforcement, copyright administration, music licensing, the retail music business, and other career areas such as:
Sound Engineers and Technicians
Music Producer
Concert Tour Manager and Promoter
Program Location