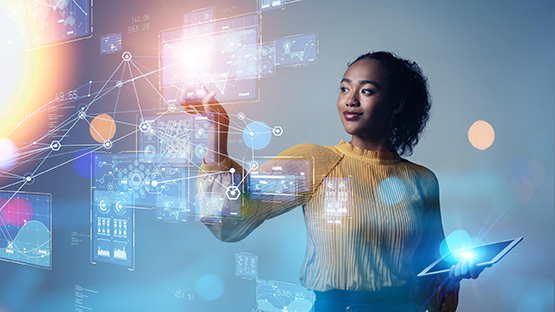 Program Overview
The integration of Artificial Intelligence (AI) technologies is revolutionizing business operations across various industries, from healthcare and finance to hospitality and entertainment. Streamlining workflows, enhancing customer experiences, increasing productivity and driving operational efficiency are outcomes that AI adoption can bring to the business landscape. To stay competitive, organizations need individuals that are aware of the practical applications of AI and how utilizing these systems can offer tangible advantages.
Whether you are an aspiring AI enthusiast or a seasoned professional seeking to upskill, the College Credit Certificate (CCC) in Artificial Intelligence Awareness offers the fundamental digital and AI competencies that employers are exceedingly looking for in today's competitive job market. A technology background is not needed as it is designed to empower individuals in varied disciplines to future-proof their careers by understanding the skills and knowledge needed to work effectively alongside AI systems.
Quick Program Highlights
Valuable Work Skills for Today's Workplace

Being AI-aware is becoming increasingly important in today's rapidly evolving workplace. Understanding the technology behind AI systems, enhancing decision-making through machine learning data models and embracing opportunities enabled by AI while evaluating its ethical implications are valuable, adaptive skills for varied career paths.

Community and Corporate Partnerships

MDC partners with leading technology companies and experts in AI to enhance educational programs and experiences for the next generation of technologists in order to help them launch successful careers in their chosen fields. To learn more, visit www.mdc.edu/aicenter/partnerships.

Scholarships

The School of Engineering and Technology has scholarships available that align with this program. Learn More.

Short Program

This program takes one year or less.
Program Details
The College Credit Certificate (CCC) in Artificial Intelligence Awareness is a three-course program suited for individuals in any field of study who are interested in learning about the applications of AI across a variety of industries, stages involved in a typical AI project and the ethical considerations when adopting AI technologies.
Artificial Intelligence Thinking
Artificial Intelligence and Ethics
Elective where you can explore how AI may be applied to your field of study

Applied AI in Business
Introduction to Robotics
Program Location