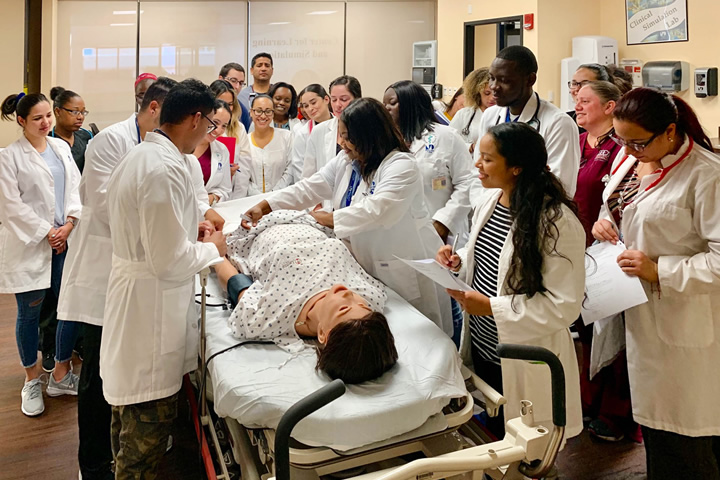 About the Program
At Miami Dade College's Benjamin Leon School of Nursing, the blended-on campus RN to BSN program is designed to help the registered nurse prepare as a BSN nurse professional. The program can be completed in 18 months, part-time or you may take the fast track that can be completed in one year.
There are three tracks to choose from, including both full and part-time schedules to suit the student's personal needs. The RN to BSN program expands upon the Associate of Science in Nursing curriculum in areas such as cultural competency, evidence-based practice, population specific health promotion, quality and safety, informatics, and leadership and management.
The Benjamin Leon School of Nursing RN to BSN Program is known among its alumni for its outstanding nursing education and career services. If you want a flexible classroom setting with an individualized student-centered approach, this is the academic RN to BSN program for you.
Program Accreditation
655 K Street, NW, Suite 750
Washington, DC 20001
P: (202) 887-6791
F: (202) 887-8476
---
Accreditation Commission for Education in Nursing
3390 Peachtree Road NE, Suite 1400
Atlanta, Georgia 30326
USA
Phone: 404.975.5000
Email: info@acenursing.org
Web: www.acenursing.org
Program Details
Students can choose from among three different tracks. These tracks accommodate full or part-time schedules as well as offers a smooth transition into the program for those graduating from MDC with an Associate of Science in Nursing (ASN) degree. Get details on the tracks.
Online Degrees
Interested in getting your degree online? This program is offered fully online with the exception of two clinical courses. Some online programs also have face to face components, such as internships. Check with an academic advisor for more information at MDC Online.
Career Prospects
Bachelor of Science in Nursing degree (BSN) expands opportunities in various areas.
Leadership and Management
Research and Evidence Based Practice
Nursing Informatics
Quality and Safety
Community/ Public Health Nursing
Nursing Advocacy
A Bachelor of Science in Nursing degree (BSN) prepares students for graduate education in various advanced practice areas.
Nurse Practitioner
Nurse Midwife
Nurse Anesthetist
Nursing Education
Doctor of Nursing Practice (DNP)
Ph.D. in Nursing
Program Location