Performing Arts and Industries
Music/Humanities Lab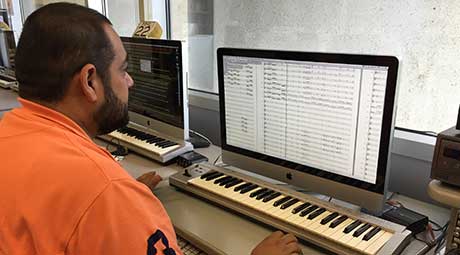 At the Music/Humanities Lab, music students sharpen their music business and theory skills, developing the skills necessary for a career in music; non-music students enrich their appreciation of the arts. This one-stop resource is equipped with everything needed to encourage personal and professional development, including:
A helpful and knowledgeable staff
An array of reference material, musical recordings, and multimedia resources
The latest multimedia production software
Dozens of high-performance workstations
High-speed internet connection
And more
Music Department Electronic Classroom (MDEC)
Located next to the Music/Humanities Lab, MDEC offers a state-of-the-art classroom that enhances the learning experience. Home to computer work stations, digital production software, and more, MDEC facilitates the creation of virtually any project.