Collegewide Student Learning Outcomes
Purpose: Through the academic disciplines and co-curricular activities, General Education provides multiple, varied, and intentional learning experiences to facilitate the acquisition of fundamental knowledge and skills and the development of attitudes that foster effective citizenship and life-long learning.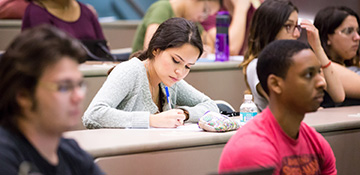 As graduates of Miami Dade College, students will be able to:
Communicate effectively using listening, speaking, reading, and writing skills
Use quantitative analytical skills to evaluate and process numerical data
Solve problems using critical and creative thinking and scientific reasoning
Formulate strategies to locate, evaluate, and apply information
Demonstrate knowledge of diverse cultures, including global and historical perspectives
Create strategies that can be used to fulfill personal, civic, and social responsibilities
Demonstrate knowledge of ethical thinking and its application to issues in society
Use computer and emerging technologies effectively
Demonstrate an appreciation for aesthetics and creative activities
Describe how natural systems function and recognize the impact of humans on the environment
College-wide Activities
Welcome back to a new academic year! We are excited about another opportunity to make a difference in our students' lives. As always, there are many learning outcomes activities happening this year. In particular, the Learning Outcomes Coordinating Council (LOCC) and the Learning Outcomes Assessment Team (LOAT) will be working on the areas listed below. The 2017-2018 Learning Outcomes agenda of activities is being shared in order to solicit your participation. Please review the following activities and complete the interest form:
Newsletter Archive

The following document serves as reference material for other universities looking for layout ideas. It is not a current informative piece.

Assessment Blueprint

The Assessment Blueprint is a document used to organize the policies and procedures related to the Learning Outcomes at MDC. In mid-September, all stakeholders at the College will receive a survey via email in order to collect feedback. Please complete the survey.

Review of the Learning Outcomes

The Learning Outcomes process at MDC was established in 2006. During this academic year, there will be a review process. Please let us know if you want to be a part of this process.

College Student Learning Outcomes Assessment (CSLOA)

There is a need to increase student participation in the CSLOA. Your assistance is needed to raise awareness of how potential graduates can participate in the CSLOA.  

Assessment Conversations: Data Dialogues

Making our CSLOA data actionable and transparent is important. The Data Dialogues are sessions where we explore our data assumptions, data trends, and brainstorm potential action items. This academic year discussions will focus on conversations related to Learning Outcome 3: Solve Problems Using Critical/Creative Thinking and Scientific Reasoning.

Please join our fall session on Thursday, October 29th, from 1:30 PM to 3:30 PM(Class Code: LOC1004-1).

Or join our spring session on Thursday, February 25th, from 1:30 PM to 3:30 PM(Class Code: LOC1004-2).

All sessions will take place virtually using Blackboard Collaborate Ultra. For more information, visit the Employee Learning Center in MDConnector or email learningoutcomesassessment@mdc.edu

Network for Improvement

The Network for Improvement is a framework for making decisions and choices using data to take action.
Contact Us
Please submit your contact information to get periodic updates about Learning Outcomes.