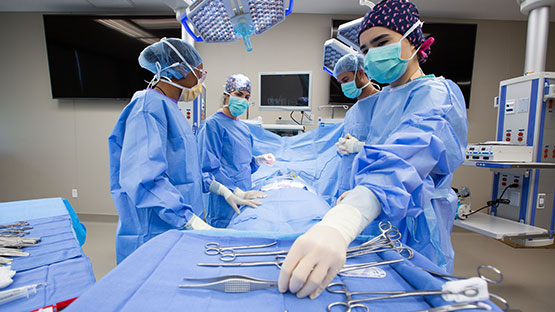 Program Overview
MDC's Associate in Science in Surgical Technology prepares its students to work as part of the health care delivery team in hospital operating rooms, ambulatory surgical centers, outpatient surgery centers, specialty surgical centers, and physicians' offices.
Students will acquire extensive knowledge of legal and ethical responsibilities, anatomy, physiology, pathophysiology, microbiology, aseptic techniques, patient care procedures, surgical technology procedures, patient safety, and use and care of equipment and supplies, preoperative (before surgical procedure), intraoperative (during the surgical operation), and postoperative (after surgical operation).
Estimated Cost
Student Testimonial
Program Details
The A.S. degree is designed for students who are looking for immediate entry into a career upon graduation. Most discipline courses directly relate to the identified career area. The remaining courses are comprised of general education courses.
The Medical Campus Surgical Technology Program is a two-year (6 semester) course of study requiring 64 credits for an Associate in Science degree. After completion of the program, graduates will be eligible to sit for the National Board of Surgical Technology and Surgical Assisting (NBSTA) exam to earn their professional certification of surgical technologist (CST).
To facilitate the clinical portion of the program, students are assigned to a clinical facility within Miami-Dade County. Students are responsible for their own transportation to the campus and to various agencies in the community to which they are assigned for clinical experiences. Students are also responsible to adhere to their clinical instructor's schedule within their required clinical hours.
Areas of Study:
Perioperative Patient Care
Operating Room Techniques
Surgical Biomedical
Surgical Clinical
Program Location