Simulators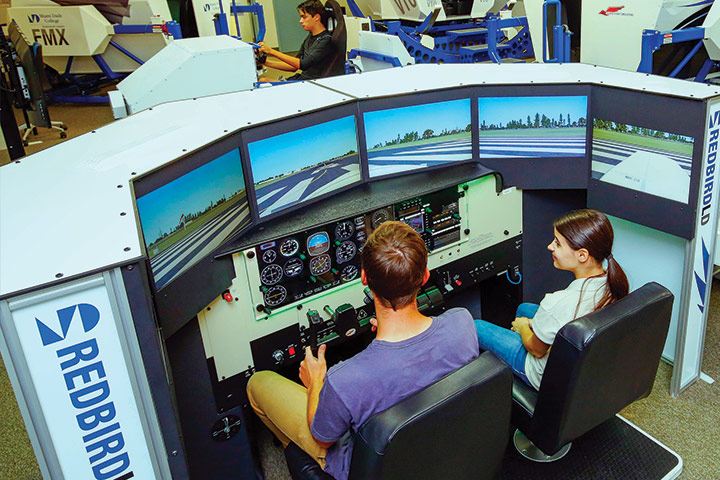 Flight Training Devices (FTDs) or simulators are an excellent way for students to build the skills and training needed in aerial maneuvering and management. Engulfed in our full sensory simulators, students will be immersed in a first-class experience at the ease of their fingertips. Simulators allot students the ability to practice Cockpit Resource Management (CRM), to perform advanced flight maneuvers, and to experience different modalities of weather patterns affecting flight performance in a cost-effective, more efficient manner.
Our modern, FAA-qualified simulator inventory includes both flight and tower technology. Under the instruction of licensed and trained professional instructors, our students are guided toward a path of success within the safety of a simulated, real-world environment. To further enhance student learning, the MDC School of Aviation is equipped with a weather station, the latest in drone technology, and an Air Traffic Control Visual Flight Radar (ATC-VFR) tower to help students deepen their understanding of the intricacies of aerial flight and management.
Miami Executive Airport (TMB)
Recently updated in 2015 with the latest in simulation technology, our Redbird VTOs and aircraft simulators offer students training to become a helicopter and/or airplane pilot.
The Redbird VTO is a helicopter simulator that helps aspiring pilots learn the two fundamental skills of hovering and autorotation. Designed with an innovative motion platform and accompanying visuals, the Redbird is able to simulate multiple types of helicopters in one full-motion experience.
The full-motion Redbird Aircraft Simulators can mimic the capabilities of several different aircraft, including Cessnas, Piper Arrows, and Beechcrafts. With a Level 6 FAA-rating, the School of Aviation's simulators are perfectly calibrated to create an immersive environment allowing students to practice in an adaptive and experiential format of pedagogy.
There are 15 stationary trainers that function as an introductory integration into the world of aerial navigation. Aiding students in the transition to the pilot's seat, these advanced autonomic training devices are equipped with precise control systems to meet the growing need of aviation specialists.
Miami International Airport and Homestead Campus
At our Miami International and Homestead locations, we have 2 state-of-the-art tower simulators with Tracon and en route capabilities, 7 radar simulators, and 15 pseudo-pilot positions.
The Air Traffic Control (ATC) tower simulators replicate real world, practical airport environments. Conducive for instruction, the simulators use high definition LCD screens to give students a 270 degree wrap-around visual. The dynamism of the tower simulator enables students to experience various weather conditions and lighting systems. Students can then review their simulations using the debriefing feature to improve their performances.