Accreditation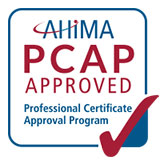 The Miami Dade college Medical Coder biller program is approved by the AHIMA Professional Certificate Approval Program. This designation acknowledges the coding program as having been evaluated by a peer review process against a national minimum set of standards for entry-level coding professionals. This process allows academic institutions to be acknowledged as offering an approved coding certificate program.
"Value for Students" Statement
The AHIMA Professional Certificate Approval Program designation:

Identifies specialized programs that meet established coding educational standards
Stimulates improvement of educational standards through faculty development opportunities, and by involving faculty and staff in program evaluation and planning
Promotes a better understanding of the goals of professional coding education
Provides reasonable assurance that practitioners possess the necessary job skills upon entry into the profession

Timeframe of program approval: January 31, 2023 to January 31, 2026 with annual interim approval during these years
The Medical Coder/Biller program is approved as a Comprehensive Coding Program by the American Health Information Management Association (AHIMA) Professional Certificate Approval Program (PCAP).
Licensure
Upon completion of the Medical Coder-Biller program, graduates are eligible to apply to the American Health Information Management Association or the American Academy of Professional Coders for permission to participate in the examination process. The credentialing process associated with this profession is considered voluntary. For further information, contact:
AHIMA
233 N. Michigan Avenue, Suite 2150
Chicago, IL 60601-5800
Main Number:
(312) 233-1100
Main Fax:
(312) 233-1090
American Academy of Professional Coders
2480 South 3850 West
Suite B
Salt Lake City, UT. 84120
(800) 626-2633
Fax: 801-236-2258