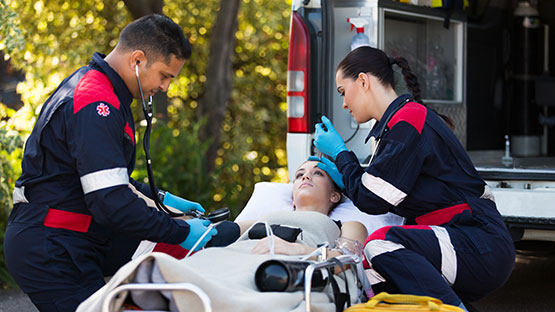 Program Overview
The Emergency Medical Technician (EMT) program provide learning experiences that enable the student to acquire and assimilate the necessary technical competencies to function effectively as an EMT responding to medical emergencies in the pre-hospital environment.
An Emergency Medical Technician is the intermediate care practitioner in Emergency Medical Services. These individuals are the first to arrive on a scene and provide the initial assessment and direct patient care in the pre-hospital environment, as well as in emergency rooms, clinics, and ambulance services.
Quick Facts
It prepares students to function in the hospital and pre-hospital environment
Graduates of this program can perform clinical data collection, patient assessment, and provide immediate care and safe relocation of the acutely ill
Satisfactory completion of this program will qualify the graduate to sit for the State and/or National EMT Certification Examination
This program is approved by the State of Florida, Department of Health and Rehabilitative Services
Strong local Demand
Estimated Cost
Program Details
This certificate program requires fewer credits than an A.S. degree and functions as an entry-level credential when entering the workforce. College credits granted with this certificate apply toward a related A.S. degree. Students may stack credentials to advance toward a higher degree level.
The Medical Campus Emergency Medical Technician program is a one semester program of study requiring 11 credits. Before entry into the Emergency Medical Technician program (EMS 1119, EMS 1119L, and EMS 1431), the student must have completed training as a First Responder or equivalent and college prep coursework or higher to be eligible for these classes. (See Testing Requirements for program).
You must see our EMS advisor to determine if you are required to take the (P.E.R.T.) Postsecondary Education Readiness Test or if you have exemption status from the test. The Emergency Medical Technician program is offered every semester at three of our campuses:
Medical Campus
Monday/Wednesday or Tuesday/Thursday
5p.m. - 9p.m.
Homestead Campus
Tuesday/Thursday
6p.m - 10p.m.
North Campus
Tuesday/Wednesday
9a.m - 1p.m.
To facilitate the clinical portion of the program, students are assigned to a clinical facility within Miami Dade County. Students are responsible for their own transportation to the campus and to various agencies in the community to which they are assigned for clinical experiences. Students participating in the clinical portion of a program are required to complete the Miami Dade College Student Health Record and criminal background check.
If students must work for financial support, the program strongly recommends a limit of 20 hours of employment per week during program enrollment.
Areas of study:
Trauma Management
Medical Management
CPR
Paramedic Lectures
EMS Field Experience
Program Location