Overview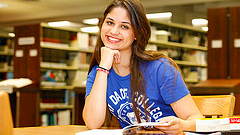 Students are given an opportunity to provide anonymous feedback to faculty in regular credit and career credit courses. Student feedback for faculty is assessed using a standardized questionnaire provided by MDC, and feedback reports are available to students, faculty, and administrators.
Students evaluate faculty in traditional classroom courses including Web-enhanced, Blended and Labs (Classroom Survey is administered); courses in special programs such as Co-Op, Independent Studies, Competency-based Education, Study Abroad, and Virtual College (Alternate Survey is administered); and in the Library Services area (Faculty Librarian Survey is administered).
NOTICE
Effective Fall 2017 (2177)
If you have questions regarding the Student Feedback administration at MDC, please contact your Department Chairperson, Associate Dean/Director, or Dean of Faculty.