Pick Your Pathway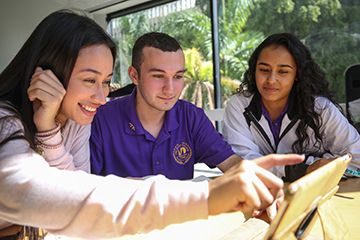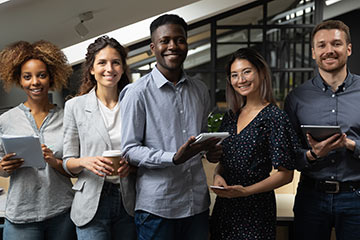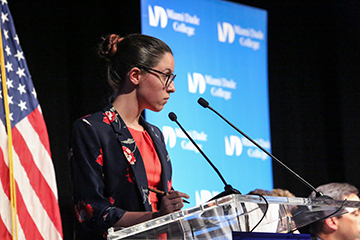 Service
Volunteer work that aims to improve the community through organizations such as a nonprofit, government agency, school, grassroots organization, or through iCED-approved projects. Refer to our standards for service.
Academic Service-Learning (AS-L)
AS-L is service that is integrated into a course. Service must be directly related to the class subject matter and meet an identified community need. Intentional, ongoing critical reflection must be incorporated into the course to help connect the service with the course objectives and with civic learning.
Review iCED's Standards for Service
Contact your campus iCED representative for next steps
Upcoming Deadlines for Service-Learning Hour Logs
| Term | Deadline |
| --- | --- |
| First 8 weeks (Aug. 22 – Oct. 7) | Friday, Sept. 30 |
| 2nd 8 weeks (Oct. 24 - Dec. 16) | Friday, Dec. 9 |
| 12 weeks (Sept. 26 - Dec. 16) | Friday, Dec. 9 |
| 14 weeks (Sept. 12 – Dec. 16) | Friday, Dec. 9 |
| 16 weeks (Aug. 22 – Dec. 16) | Friday, Dec. 9 |
Individual Service
Service that is not part of a requirement for a class.
Review iCED's Standards for Service
Visit the Changemaking Hub to find your service site and register.
Student Club Service
Service performed as part of your membership with an MDC student club.
Review iCED's Standards for Service
Visit the Changemaking Hub to find your service site and register.
Student Service Awards
Civic Leadership
Assume leadership or membership roles in organizations, behave, and work through controversy, with civility, and develop empathy, ethics, values, with a sense of social responsibility.
Receive Job & Internship opportunities in your inbox!
iCED Civic Ambassador Program (Paid)
Earn money as you serve your community. This Federal Work-Study program provides you with training, leadership opportunities, and professional skills. Work with our iCED offices as we implement various programming initiatives across our campuses. Civic Ambassadors work a flexible schedule of 15-25 hours a week. Payment is dependent on each student's own Financial Aid award package.
Fill out an iCED Student Job interest form to learn more
Civic Leadership Fellows (Paid)
Help address our community's most pressing issues, develop your leadership skills, and be a Changemaker! This Federal Work-Study program involves working off campus at a non-profit organization in a role similar to a paid internship. Civic Leadership Fellows work a flexible schedule of 10-25 hours a week, are paid $14 an hour, and have meaningful work opportunities at over 20 community organizations that include, but are not limited to:
We are urgently hiring for opportunities across the county for all majors and experience levels!
Learn how you can apply to be a paid changemaker
Voter Engagement Internships (Paid)
Non-partisan paid internships available to promote voter registration, voter education, public policy, and social justice initiatives on campus. Internships generally pay approximately $500 per semester and involve an average of 10 hours a week. Gain experience, build your resume, and support our democracy! On-going training and support provided! Program partners include Campus Vote Project's Democracy Fellows, Andrew Goodman Foundation Vote Everywhere Ambassadors, and the Civic Influencers Program.
Fill out an iCED Student Job interest form to learn more
Changemaking
Join MDC's effort to create an "everyone a changemaker world"
Student Civic Leadership Awards
Democratic Engagement
Experiences that prepare students for informed, engaged participation in their communities' civic and democratic life by providing opportunities to develop civic knowledge, skills, and mindsets.
Receive Featured Civic Actions in your inbox!
iCED's Civic Action Scorecard
Take Action. Score Points. Earn Awards.
The Civic Action Scorecard is your toolkit for learning how to flex your civic muscles! In its simplest form, the Scorecard is a list of possibilities for Civic Actions. Whether you are registering to vote for the first time or ready to run for office, the Scorecard will support your growth as civic learners, help you demonstrate your learning in the creation of a portfolio, and prepare you to earn an award for your efforts. We present the Civic Action Scorecard as an equitable, accessible, and diverse guide towards civic empowerment for all.
Voter Engagement
Visit MDC's one-stop election readiness site: register to vote, sign-up for vote-by-mail, check voter registration status, update voter registration address, learn about important deadlines, and more!
Student Democratic Engagement Awards