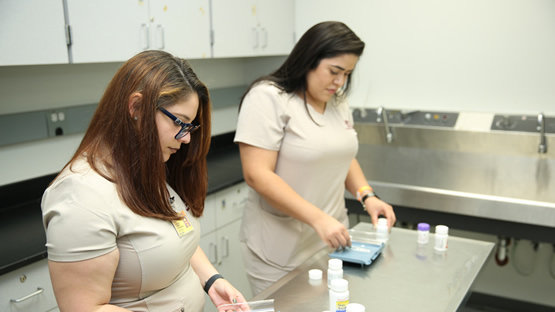 EDGE Scholarship Program
Apply for EDGE Scholarship. Receive tuition assistance, mentorship opportunities, access to internships, and dedicated advisors who will help you navigate the college experience.
Program Overview
Pharmacy Technicians assist and support licensed pharmacists in providing health care and medications to patients. A Pharmacy Technician works primarily in retail and hospital pharmacies under the supervision of a registered pharmacist in the packaging and distribution of medication.
The Pharmacy Technician program provides learning experiences that enable the student to acquire and assimilate the necessary technical competencies to function effectively as a supportive health care provider. This program has a nearly 100% PTCB Exam pass rate and state registration rate. Historically, over 80% of students have been hired directly from their clinical rotation, both hospital and retail.
This program is highly demanding, and students are therefore more successful if they do not work while in the program. If students must work for financial support, the program strongly recommends a limit of 20 hours of employment per week. The theory courses for this program will be either daytime or evening. However, the clinical portion of the program is during regular daytime hours (usually Monday through Friday between 8am-5pm). Students should also consider family responsibilities before committing to a full-time accelerated program. Areas of study include: Intro to Pharmacy; Pharmacy Calculations; Drug Classifications; and Practitioner Applications.
Estimated Cost
Program Details
This is a Vocational Credit Certificate program that is a 2-3 semester course of study requiring 35 vocational credits (1050 contact hours). Before entry into the Pharmacy Technician Program, students must complete the Test of Adult Basic Education (T.A.B.E.) Completion of this test does not guarantee admission to the program. 
To facilitate the clinical portion of the program, students are assigned to a clinical facility within Miami Dade County. Students are responsible for their own transportation to the campus and to various agencies in the community to which they are assigned for clinical experiences. Students enrolled in the clinical portion of the program are required to complete the Miami Dade College Student Health Record and criminal background check process.
Intro to Pharmacy
Pharmacy Calculations
Drug Classifications
Practitioner Applications
Career Prospects
Most good students, who have interest in employment upon completion of the program, are candidates for employment at their clinical sites. Students who pursue this course of study may find employment in a range of job roles, such as:
Pharmacy Technician
Pharmacist
Pharmacy aide
Program Location
Student achievement outcomes
Program Retention Rate: 100%
Program Graduation Rate: 90%