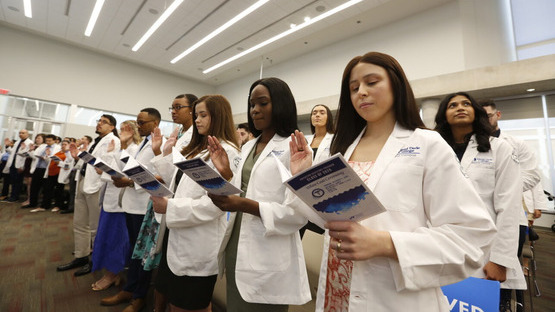 Major Announcement
MDC PA Students Now Graduate with a Master's Degree
The Accreditation Review Commission on Education for the Physician Assistant (ARC-PA) has acknowledged and accepted the MDC PA program's change in degree to a Master's degree. The change in degree is now in effect. For more information read below or contact. mdcpaprogram@mdc.edu.
Program Overview
The Miami-Dade Physician Assistant program is a 27-month program offering a Bachelor of Applied Science in Physician Assistant Studies along with a Master of Health Science through its affiliation with Nova Southeastern University.
Physician Assistants are health care professionals licensed to practice medicine in collaboration with all members of the healthcare team. Physician Assistants conduct histories, physical exams, order and interpret tests, diagnose, treat illnesses, provide counsel on preventive health care, assist in surgery, and write prescriptions. In addition, PAs also participate in education, research, and leadership services.
The Miami-Dade Physician Assistant Program is on the cutting edge to address
the workforce needs in Miami Dade County and around the world. The program is preparing students to become highly skilled healthcare professionals, while
improving their quality of life. The PA program continues to meet its mission by graduating physician assistants who return to serve the community. The program participates in a migrant program and other community service projects.
---
Mission Statement
The mission of the Miami Dade Physician Assistant Program is to educate and train students from a culturally diverse background to become competent primary care physician assistants who will serve the medically underserved patients in urban and rural communities in Florida. The program also promotes academic excellence, high professional standards, and the development of lifelong learners.
Please review costs associated with this program.
---
Program Goals and Outcomes
Program Learning Outcomes:
PSLO 1

Apply comprehensive knowledge of biomedical and clinical sciences to provide patient centered medical care across the lifespan.

PSLO 2

Communicate effectively by demonstrating interpersonal and communication (verbal, nonverbal, written, and electronic) skills that result in effective, patient centered care.

PSLO 3

Demonstrate the clinical, and technical skills required to provide appropriate assessment, evaluation, and management of patients across the lifespan.

PSLO 4

Exhibit awareness of empathy, integrity, and ethical behaviors necessary to provide equitable patient care across the lifespan.

PSLO 5

Analyze and synthesize clinical, psychosocial, diagnostic, and pharmacological information to evaluate and manage patients across the life span.

PSLO 6

Develop community servant leaders who will provide access to care to patients across the life span.
MDC PA Program Student Attrition
View MDC PA Program Student Attrition information here.
Program Location