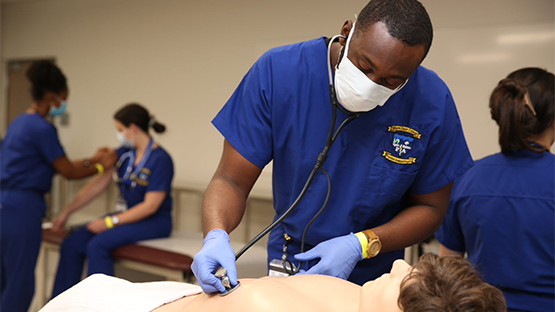 Major Announcement
Students commencing with the matriculating class of 2021, MDC PA student will graduate with a Master's degree.
Effective January 2020, the Accreditation Review Commission on Education for the Physician Assistant (ARC-PA) has acknowledged and accepted the MDC PA program's change in degree to a Master's degree. The change in degree will commence with the matriculating class of 2021. For more information read below or contact mdcpaprogram@mdc.edu.
Program Overview
Beginning with the matriculating class of 2021, students will be concurrently enrolled in both the MDC PA program and the Masters of Health Science (M.H.Sc.) program through an affiliation with Nova Southeastern University (NSU). PA students who successfully complete all the requirements of the MDC PA Program and the NSU M.H.Sc. program will simultaneously graduate with the professional credential from MDC and the Master's degree from NSU. For more information on the NSU M.H.Sc. degree visit the Nova's official degree website
* A Baccalaureate degree is now required to progress to discipline courses in the MDC PA Program*
* New Target Review Date is October 15th
New Test Requirement – PA-CAT
---
Physician Assistants are health care professionals licensed to practice medicine in collaboration with their physician partners. As part of their comprehensive responsibilities, they conduct physical exams, diagnose and treat illnesses, order and interpret tests, provide counsel on preventive health care, assist in surgery, and write prescriptions. Physician assistants have a close working relationship with physicians. They are educated in the medical model designed to complement physician training.
Within the physician-PA relationship, physician assistants exercise autonomy in medical decision-making and provide a broad range of diagnostic and therapeutic services. A PA's practice may also include education, research, and administrative services. This Program seeks to prepare exceptional physician assistants to practice as an integral part of the health care team. Miami Dade College has a distinguished history in contributing talented health care providers to the health care industry both locally and nationally.
Please review costs associated with this program.
Program Details
The Physician Assistant program is 27 months in duration. During the first year, students complete course work in basic and applied sciences including, Anatomy & Physiology, Pathophysiology, Clinical medicine, Pharmacology, Physical Diagnosis techniques, and surgical technical skills. Several of these courses have both a lecture and a laboratory component.
During the second year, students are provided the opportunity to develop their clinical skills and expand their knowledge by participating in supervised clinical practice experiences (SCPE) under the supervision of medical professionals such as Physician Assistants and physicians. To provide students with a broad range of clinical experience, the program utilizes numerous hospitals, primary care centers and free-standing clinical settings within the State of Florida.
Throughout the 27-month journey, students will be concurrently enrolled in the Master's of Health Science program through an affiliation with NSU. Students will need to maximize time management skills to successfully work through the MDC PA program course workload while simultaneously taking one NSU online course per term. Students will take a total of 8 online NSU Master's courses broken up over 8 terms. Here is a sample of the NSU courses with its assigned term schedule.
NSU Courses Per Term Schedule
Term 1: Summer
MHS 5203: Writing for Allied Health Professionals (3 credits)
Term 2: Fall
MHS 5501: Epidemiology and Biostatistics (3 credits)
Term 3: Winter
MHS 5510: Research Methods (3 credits)
Term 4: Summer
MHS 5003: Current Trends and Cultural Issues in Health Care (3 credits)
Term 5: Fall
MHS 5026: Human Trafficking for Health Care Professionals (3 credits)
Term 6: Winter
MHS 5309: U.S. Health Care Policy (5 credits)
Term 7: Spring
MHS 5207: Practicum (5 credits)
12-week courses consisting of 5 MDC transfer prior learning credits + 25 NSU credits. A total of 30 credits for MHS degree.
Certification
Upon graduation, PAs take a national certification examination developed by the National Commission on Certification of Physician Assistants (NCCPA). To maintain their national certification, PAs must complete 100 hours of continuing medical education credits every two years and sit for a recertification exam every ten years. Graduation from an accredited physician assistant program and successful completion of the national certifying exam are required to obtain state licensure and the privilege to practice medicine with the collaboration of a physician.
Accreditation and Pass Rate
The Accreditation Review Commission on Education for the Physician Assistant (ARC-PA) has granted Accreditation-Continued status to the Miami Dade College Physician Assistant Program sponsored by Miami Dade College. Accreditation-Continued is an accreditation status granted when a currently accredited program is in compliance with the ARC-PA Standards. Accreditation remains in effect until the program closes or withdraws from the accreditation process or until accreditation is withdrawn for failure to comply with the Standards. The approximate date for the next validation review of the program by the ARC-PA will be September 2025. The review date is contingent upon continued compliance with the Accreditation Standards and ARC-PA policy.
MDC PA Program Student Attrition
View MDC PA Program Student Attrition information here.
Mission and Goals
Physician Assistant Program Mission:
Provide high quality education and training opportunities in primary care for students from diverse cultural backgrounds interested in providing health care services to the medically under-served residents in urban and rural communities, especially in Florida.
Promote and maintain high academic and professional standards.
Participate in professional activities and continuing education to promote life-long learning.
Prepare each graduate with a level of didactic and clinical competence that provides successful entry into the profession.
Physician Assistant Program Goals:
Matriculate a culturally diverse class of highly qualified physician assistant students.
Prepare physician assistant students to practice in interprofessional healthcare teams.
Offer a curriculum to prepare physician assistant students with the medical knowledge and skills required to enter clinical practice.
Prepare physician assistant students to become leaders in the profession and in the community.
To learn more about the Miami Dade College PA program goals and outcomes, please download the Physician Assistant Goals document (PDF).
Program Location