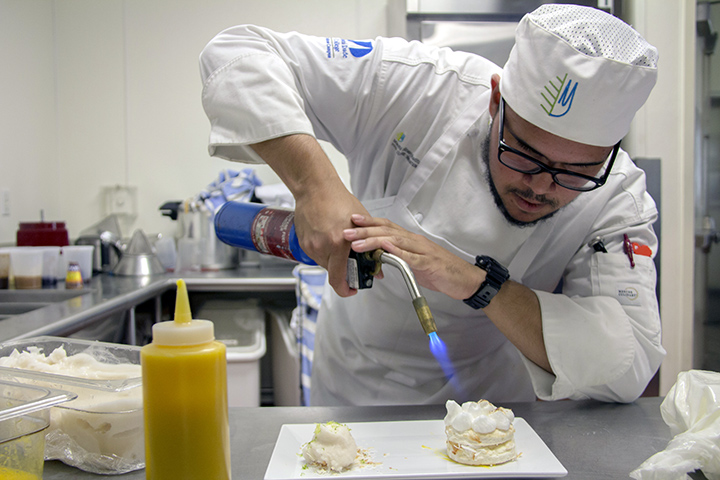 A Passion for Food, People and the Planet
At Miami Culinary Institute, you will gain the real-world and hands-on knowledge to create a perfect blend of classic skills and innovative techniques used by some of the world's best chefs. Our two-year Associate in Science degree has been formulated to prepare students of all ages for dynamic careers in culinary arts.
Centrally located in Miami Dade College's Wolfson Campus in the heart of downtown Miami, students can conveniently reach the campus via Metromover, Metrorail, bus, bike or car.
Contact an advisor or call us at 305-237-3276
Food Culture Innovation
From Seed to Soil
Our core philosophy of Food Culture Innovation requires an examination and understanding of the culture built upon our interaction with food. As culinary professionals, we understand the role we play and the responsibility we must own in elevating our community's expectations about the food they eat. We help our students understand the value of tracing our foods to their source to evaluate how a particular farm, ranch or fishery impacts our environment, community and economy. We examine how food distribution not only contributes to a significant portion of the world's greenhouse gasses, but also how we can make choices that will improve that process. We analyze how food is prepared to ensure that the best nutrition possible is delivered on each plate.
Miami Culinary Institute is training the next great culinary professionals and arming them with the tools to innovate the way we interact with food. Housed within a state-of-the-art, LEED-certified facility, our program is heavily infused with sustainable food practices that incorporate a real-world understanding of the environmental, social and economic implications involved in our food sources, cooking techniques and waste disposal methods.
This philosophy is at the core of our seed-to-soil practice and is a foundation from which our students will innovate within their professional practices to deliver excellent culinary art that is good for the planet and the people on it.