Chef John (Jack) Kane - Chairperson
M.S. C.E.C. C.C.A. C.C.E. C.H.E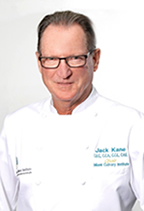 Program Chair of The Miami Culinary Institute at Miami Dade College. A longtime South Floridian Kane has more than 40 years' experience in the food and hospitality service industry in a variety of top restaurants and resorts including Caesar's Tahoe, State Line, Nevada; The Grand Bay Hotel in Coconut Grove; and The Naples Beach Hotel and Golf Club, in Naples, Florida. He was the Department Chair of Culinary at the Art Institute of Fort Lauderdale for 13 years and prior to that he was the Lead Instructor at Le Cordon Bleu.
A Certified Executive Chef, a Certified Culinary Administrator, a Certified Culinary Educator and Certified Hospitality Educator Kane holds a Master of Science in Hospitality Management.
Chef Patrick McCurry - Senior Instructor
MBA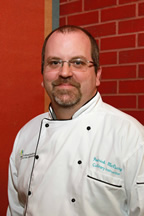 Chef Patrick McCurry is a native of South Florida. Immediately following his attendance at University of Central Florida, he chose to pursue his passion in the culinary field to attend the Art Institute Fort Lauderdale. While attending school, he worked under acclaimed James Beard winner Chef Johnny Vinczencz. Soon after, he continued his education to receive a Master's degree from The University of Phoenix. His history of employment includes several years of working in highly respected restaurants in the Fort Lauderdale area including Johnny V's, Fish, Jackson's Steakhouse and Morton's.

Chef McCurry has an extensive education including an Associates of Culinary Arts degree, a Bachelor of Arts degree in Culinary Management, and Master's degree in Business Administration. He is a member of the American Culinary Federation.

Chef McCurry aspires to become a positive influence and mentor to the students in the Culinary Program at Miami Dade College. He hopes his fresh outlook and new ideas will be embraced in order to help and inspire the students to pursue their common passion for food and of the ever evolving industry.
Chef Pedro Acosta - Instructor
MS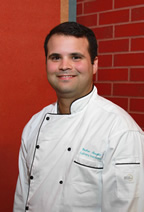 Chef Pedro Acosta found his passion for cooking very early in his life, working and learning the basic skills from his family; taking most of his inspiration from his father. He desired to take his dreams and pursue a career in the culinary world. Chef Pedro holds a Bachelor degree in Culinary Management from The Art Institute of Fort Lauderdale as well as a Master degree in Hospitality Management from Florida International University.
He has been involved in the hospitality industry for over twelve years now; ranging from Quick Service restaurants to Private Catering. He currently works as a Head Chef for a private school in Miami, Florida. Chef Pedro is a member of the American Culinary Federation and other culinary associations. He hopes to inspire students on accomplishing their goals and take each opportunity as a learning experience
Chef Bernardo Espinel - Culinary Instructor
MS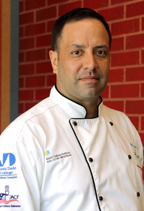 With over 20 years of experience, he has worked as a chef for distinguished restaurants in world-renowned hotels and resorts including the Ritz-Carlton South Beach, Miami and Kura Hulanda Resort in Curacao, Netherlands Antilles. He has extensive experience in menu development that includes Indian, Asian, Latin-Caribbean, Mediterranean, and American Contemporary influences. Chef Bernardo is now training future chefs the essential skills, they need for success in the kitchen, management of employees, and restaurant operations.
Chef Malka Espinel - Baking and Pastry Instructor
MA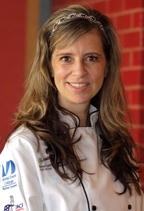 Malka Espinel is perhaps one of South Florida's pre-eminent pastry chefs. She is young, bright, incredibly talented and above all creative. Born in Colombia, Espinel credits her love for desserts to numerous hours spent in her grandmother's kitchen. Her Latin roots spur her eclectic creations; an artful fusion of Latin flavors and complex textures, paired with the simplicity of classic American pastry art. She painstakingly prepares her desserts, enticing the always enthusiastic patrons to dive into her creations. She has carved a name for herself, not only in South Florida, but nationally, having graced the pages of such respected magazines as Chocolatier and Pastry Art & Design, among others.

Espinel finished her degree in Food Engineering in Colombia and decided to move to the United States for a more specialized degree in Culinary Arts where she completed yet another undergraduate degree from The Cooking and Hospitality Institute of Chicago. Armed with both diplomas, Espinel moved to Miami to pursue her Master's degree at Florida International University. She attributes her stellar success to hard work and dedication, but above all to being herself and being true to her flavors.

An enthusiast of new cultures and art, Espinel claims that the more she travels, the more she learns about different customs and foods. While open to exciting opportunities to work short term abroad, she asserts that South Florida is where she sees herself in the end. Espinel also promises that she plans to eventually open her own business, where lovers of her delicious desserts and exotic ice creams can indulge their guilty pleasures anytime of the day or night. We'll all be waiting!
Chef Paul Galadza - Instructor
CEC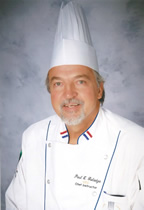 Chef Paul Galadza holds a Bachelor of Science in Hospitality Management from Florida International University. Formerly Executive Chef and General Manager at Captain's Tavern, he now dedicates his time to teaching young culinarians. Chef Galadza has been recognized by the American Culinary Federation as a Certified Executive Chef.
He also holds a certification in ServSafe. In addition to his teaching students at The Miami Culinary Institute Chef Galadza teaches at Robert Morgan Educational Center.
Chef Asser Y. Ghali - Instructor
MBA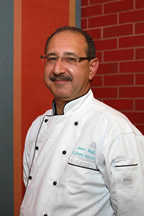 Asser "AY" Ghali has enjoyed being in the culinary and hospitality field since 1976, his education started with a culinary and hospitality management degree from the French Hotel School of Alexandria, then a "CP&HM" Certified in Pedagogic and Hotel schools management from the CDG Germany.
He continued Working in England while attending the London Waterloo Schiller American University to graduate with a BBA majoring in Hotel Management and a minor in Economics, and then an MBA in Hospitality Management and International Tourism from Schiller University Largo Florida, USA.
Asser has enjoyed working with many great chefs, at great places such as Das Vier Yares Zieten. Munchen, The Steigenberger Hotel Chain Germany, Nile Hilton Cairo, Gazala , South Sinai Travel Chain Sinai, the Red Sea, and Les Fruit de Mer Marble Arch London, held several positions at luxury Hotels and Cruise companies from chef, food and beverage manager, resort resident manager and member of the board for South Sinai Travel and Cruises.
Asser served as part of faculty teams for several Culinary and Hospitality Schools, believes in combining teaching with the real life industry experience, Asser is currently Teaching at the Culinary Institute of MDC and at South University along with enjoying being a part of the new culinary culture of promoting sustainability, nutrition and great taste.
Chef Monica Gill - Instructor
MBA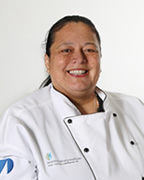 California-born, Miami raised, Monica Gill is a culinary & catering specialist and educator with a lifetime of experience. Born to a Sicilian father and a Colombian mother, Monica has always had a passion for food. With the fusion of growing up in Italian-Colombian household, she honed her kitchen skills under the guidance of her Sicilian grandmother and other family elders, whom all believed in using fresh ingredients and instilling family traditions in cooking.
A graduate of Miami Beach High School, Monica continued to work in the Culinary Arts Field and obtained college degrees from Miami Dade College and Johnson & Wales University in Hospitality Management, Culinary Arts and rounding off with her MBA. She also, spent time traveling, researching, and teaching Culinary Arts in Mexico and South America, exploring her Hispanic roots, which continued to lay strong foundation for her cooking. One of her highlights, was honing her culinary skills under the guidance of Celebrity Chef Emeril Lagasse and Chef Robert Bruce in the Southern-Creole town of New Orleans, Louisiana. She remained active in the Culinary Industry, cooking in restaurants, catering and banquets for masses of individuals as an Executive Sous Chef.
After returning to South Florida full-time, Monica began educating students at local, national recognized colleges including Le Cordon Blue College of Culinary Arts, Miami Culinary Institute at Miami Dade College, and San Ignacio College. She has received teaching certifications from the American Culinary Federation and the National Restaurant Association to add to her credentials. She made her dreams come to life of being a restaurant owner, when she with the support of her close family ran a successful Italian Restaurant in the exclusive neighborhood of Pinecrest, called Kaliapy's.
However, Monica's best attribute in combination with her Culinary Skills, is her compassion for helping youth and disadvantaged adults. She has changed many lives of students and inner-city adults through work as a professor, inspiring them to excel in whatever career path they chose. She served as the Culinary Director for Easter Seals South Florida for several years, which provides exceptional services to children and adults with disabilities or special needs and their families, helping the school reinstate the necessary education foundation of culinary basics for all future chefs.
Chef Ana Plana - Instructor
MS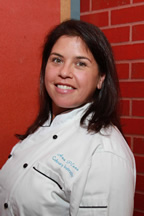 Chef Ana Plana graduated Summa Cume Laude with her degree in Culinary Arts from Johnson & Wales University. In 2009, she received Rookie Teacher of the Year at MAST Academy, in 2010, she received FENI Secondary Educator of the Year award, in 2013-2014 she was named Teacher of the Year at MAST Academy, currently she holds a position on the board of Le Dames d'Escoffier Miami Chapter as member at large for education. Ana continues as a Culinary Arts instructor and department chair at Mast Academy, as well as an adjunct professor at the Miami Culinary Institute of Miami Dade College. From The Blue Door - Delano Hotel, to the Sandestin Resort at The Elephant Walk Restaurant, Lowell-Hunt Catering in Seattle, Ana has had a range of experiences in the culinary world.
Patrick Syka - Program Coordinator
C.E.C, B.T.H, B.T.S.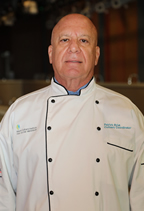 Born and raised in Paris, France, Chef Patrick Syka attended the Ecole Hôtelière of Paris for 5 years and graduated with a baccalaureate in hotel and restaurant management, and a B.T.S in culinary production. He then spent two years in French West Indies (Guadeloupe) to open Ecotel, a Hotel/ Restaurant School for the Chamber of Commerce.
Upon returning to Paris, Patrick operated his own restaurant as Chef for 7 years where he received numerous awards in guides and press.
He becomes General Manager for "Laperouse" a 3 Michelin star Landmark of Paris. Later he joined Hard Rock International for 12 years - 5 years in Europe, and 7 years in USA (California, Hawaii…) as GM and Director of F&B for the West Coast of USA. He received an award for General Manager of the year in 1995.
Upon returning to France in 2003, Patrick opened a new concept with Lenotre company at the Champs Elysees called Pavillon Elysée, featuring a restaurant Café Lenotre, bar, a culinary school with the team that helped Chef Joel Robuchon to be nominated "Chef of the Century." He then had the privilege to open, for Chef Alain Ducasse, his restaurant/lounge called MIX in Las Vegas at the top of THEhotel at the Mandalay Bay.
He joined Le Cordon Bleu Miami Culinary College in 2008, were he taught various culinary classes as well as Academic ones.
He started at The Art Institute in Fort Lauderdale in 2017 as Chef Instructor and Guest service Instructor.