Chef Patrick McCurry - Senior Instructor
MBA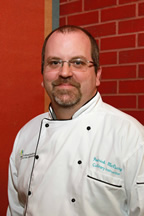 Chef Patrick McCurry is a native of South Florida. Immediately following his attendance at University of Central Florida, he chose to pursue his passion in the culinary field to attend the Art Institute Fort Lauderdale. While attending school, he worked under acclaimed James Beard winner Chef Johnny Vinczencz. Soon after, he continued his education to receive a Master's degree from The University of Phoenix. His history of employment includes several years of working in highly respected restaurants in the Fort Lauderdale area including Johnny V's, Fish, Jackson's Steakhouse and Morton's.

Chef McCurry has an extensive education including an Associates of Culinary Arts degree, a Bachelor of Arts degree in Culinary Management, and Master's degree in Business Administration. He is a member of the American Culinary Federation.

Chef McCurry aspires to become a positive influence and mentor to the students in the Culinary Program at Miami Dade College. He hopes his fresh outlook and new ideas will be embraced in order to help and inspire the students to pursue their common passion for food and of the ever evolving industry.
Chef Malka Espinel - Baking and Pastry Instructor
MA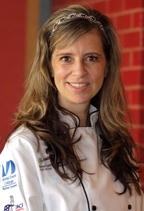 Malka Espinel is perhaps one of South Florida's pre-eminent pastry chefs. She is young, bright, incredibly talented and above all creative. Born in Colombia, Espinel credits her love for desserts to numerous hours spent in her grandmother's kitchen. Her Latin roots spur her eclectic creations; an artful fusion of Latin flavors and complex textures, paired with the simplicity of classic American pastry art. She painstakingly prepares her desserts, enticing the always enthusiastic patrons to dive into her creations. She has carved a name for herself, not only in South Florida, but nationally, having graced the pages of such respected magazines as Chocolatier and Pastry Art & Design, among others.

Espinel finished her degree in Food Engineering in Colombia and decided to move to the United States for a more specialized degree in Culinary Arts where she completed yet another undergraduate degree from The Cooking and Hospitality Institute of Chicago. Armed with both diplomas, Espinel moved to Miami to pursue her Master's degree at Florida International University. She attributes her stellar success to hard work and dedication, but above all to being herself and being true to her flavors.

An enthusiast of new cultures and art, Espinel claims that the more she travels, the more she learns about different customs and foods. While open to exciting opportunities to work short term abroad, she asserts that South Florida is where she sees herself in the end. Espinel also promises that she plans to eventually open her own business, where lovers of her delicious desserts and exotic ice creams can indulge their guilty pleasures anytime of the day or night. We'll all be waiting!
Patrick Syka - Program Coordinator
C.E.C, B.T.H, B.T.S.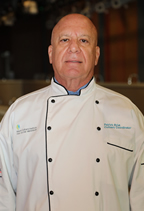 Born and raised in Paris, France, Chef Patrick Syka attended the Ecole Hôtelière of Paris for 5 years and graduated with a baccalaureate in hotel and restaurant management, and a B.T.S in culinary production. He then spent two years in French West Indies (Guadeloupe) to open Ecotel, a Hotel/ Restaurant School for the Chamber of Commerce.
Upon returning to Paris, Patrick operated his own restaurant as Chef for 7 years where he received numerous awards in guides and press.
He becomes General Manager for "Laperouse" a 3 Michelin star Landmark of Paris. Later he joined Hard Rock International for 12 years - 5 years in Europe, and 7 years in USA (California, Hawaii…) as GM and Director of F&B for the West Coast of USA. He received an award for General Manager of the year in 1995.
Upon returning to France in 2003, Patrick opened a new concept with Lenotre company at the Champs Elysees called Pavillon Elysée, featuring a restaurant Café Lenotre, bar, a culinary school with the team that helped Chef Joel Robuchon to be nominated "Chef of the Century." He then had the privilege to open, for Chef Alain Ducasse, his restaurant/lounge called MIX in Las Vegas at the top of THEhotel at the Mandalay Bay.
He joined Le Cordon Bleu Miami Culinary College in 2008, were he taught various culinary classes as well as Academic ones.
He started at The Art Institute in Fort Lauderdale in 2017 as Chef Instructor and Guest service Instructor.