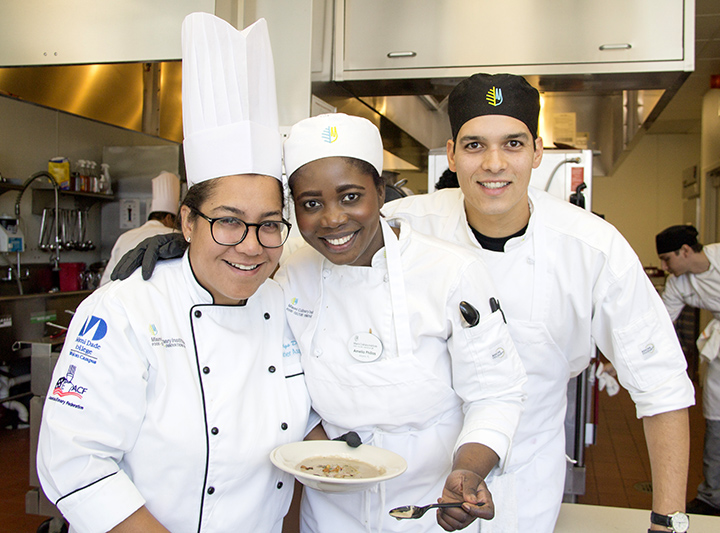 Vision and Values
Miami Dade College has developed a breakthrough recipe for culinary excellence in the 21st century featuring a curriculum steeped in green-sustainable food and energy technologies, the highest quality food and beverage enthusiast programming and customized professional development for our corporate and educational partners around the globe.
At Miami Culinary Institute, our goal is to arm students with the real-world knowledge and innovative thinking necessary to thrive in the culinary industry and to help evolve the world's food culture. With a curriculum steeped in sustainable thinking and cutting-edge culinary techniques, we seek driven individuals who are passionate about food, people and the planet. Through our strategic ties with active culinary professionals and industry leaders, we help ensure that our students graduate with the practical skills and expectations the always-changing industry demands.
Miami Culinary Institute seeks to enrich our students, the culinary industry and our community by:
Providing an excellent culinary education for passionate students and enthusiasts
Being at the forefront of culinary practice, technique and industry expectations
Fostering a culture of innovation in the classroom, the kitchen and the community
Providing the knowledge that can help evolve food culture within our community and the world
Providing students with tools that enhance intellectual and personal growth
As a part of renowned Miami Dade College, we mirror the college's core values:
An exceptional learning environment in which students are challenged and empowered through innovation, state-of-the-art technologies, teaching excellence and student support programs that prepare each student with the knowledge, skills and values to succeed in a dynamic world.
A culture of inquiry and evidence that is characterized by the commitment of faculty, staff and students to accountability for learning excellence through the achievement of measurable learning outcomes, innovative assessment methods and data-driven decisions that foster adaptability in programs and services.
An exceptional work environment that makes MDC the "employer of choice" for an exemplary, diverse workforce that is engaged in and accountable for the quality of MDC's learning environment, and that benefits from excellent support, state-of-the-art technologies, growth opportunities and a competitive compensation program.
Quality community partnerships that serve as the foundation for the development of relevant workforce, cultural and civic programs to foster community service and create a pervasive understanding throughout the greater Miami-Dade County community of the essential importance of education.
A commitment to cultural initiatives that complement academics and promote the advancement and appreciation of the arts, thereby contributing to the richness of our multicultural community. Sustainability practices that distinguish Miami Dade College as a leading innovator in educating our students as contributors to a healthy planet, and as an institution that accepts its responsibility to preserve the natural environment.