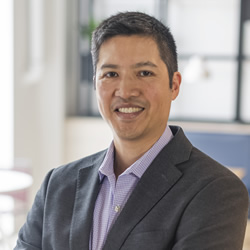 Anthony Fung is the CEO of Amplitude9, a company that provides robotic process automation and artificial intelligence solutions that improve service delivery to citizens, provide significant organizational cost savings, and increase employee productivity and satisfaction.
Anthony Fung served as Deputy Secretary of Technology for the Commonwealth of Virginia. In this capacity, Anthony served as a senior advisor to the Commonwealth on technology matters including data analytics, cybersecurity, artificial intelligence, innovation and entrepreneurship, and oversaw Virginia's technology agency which supports technology governance and needs for over one hundred thousand commonwealth employees.

Anthony is a proven executive with over 23 years of experience in information technology management, strategic planning, and operations management. Before joining the Governor's Cabinet, Anthony was the CEO of a professional consulting firm, which serviced Federal focused clients such as DoD, HHS, DHS, and GSA. Anthony also served as a SCORE counselor, providing advice to small businesses on start-up best practices, business operations, and strategy.

Anthony has been recognized as one of Washington's top business leaders, recipient of Washington Business Journal's Award, SmartCEO Top 100 CEOs, and named Top 40 Under 40 Business Leader.