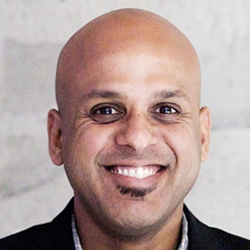 Manuj Aggarwal is an innovation evangelist and one of the leading AI experts globally. He has 4 patents in the fields of artificial intelligence and machine learning. He is a published author of 2 books on technology. 
Besides being an expert technologist, Manuj is also a behavioral scientist, an expert in human psychology, and an avid student of meditation. The right brain thinking allows him to capitalize on strategic advantages. And the left-brain thinking is where analytics and data play a huge role in making sound business decisions.
Utilizing this skill and experience - Manuj runs a boutique big data and AI consulting company called TetraNoodle Technologies based in Canada. TetraNoodle helps companies of all sizes unlock the power of data and provide compelling technology solutions. Some of the notable clients TetraNoodle has served include names like Microsoft, IBM, Pearson, Desire2Learn, University of British Columbia, and many more.
Manuj is also passionate about education and sharing his knowledge with others. He is currently teaching 190,000 students. He is a passionate mentor and coach for entrepreneurs and startup founders. He leads "Startup Vancouver" – a community of 2,500 startup founders and entrepreneurs. 
With this rich experience and expertise, Manuj provides business and career coaching and mentorship, investment assessment for VCs and helps ambitious go-getters to build their own personal brands faster. 
In order to serve the entrepreneurial community - he has packaged his expertise in 3 main offers:
Business Myth Uncovered
Fulfillment Coaching Jet 
Super Connector Stopover
Manuj is also the host of the popular entrepreneurial podcast "Bootstrapping Your Dreams" which is among the top 0.5% of podcasts globally. And it also got ranked as Top 100 next to Tony Robbins, Gary Vee, and Tim Ferriss.