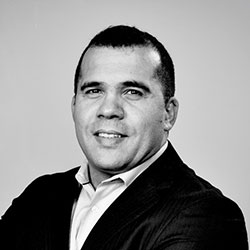 Alex Moura is technologist with a strong passion for innovation and for creating new products that allow people to access new experiences and buy things they need, want and love.
He currently leads Insights and Analytics in Latin America. Main responsibilities include product management of Data Platforms and Advanced Analytics for Mastercad's Data and Services Division.
Alex is recognized as a thought leader in Data Analytics, Digital Transformation and Innovation. He is also a frequent speaker and panelist at industry conferences and has delivered keynotes on these topics for audiences in English, Spanish and Portuguese.
Alex started his career as an Officer in the Brazilian Navy and spent a number of years with Ernst & Young's Technology and Security Risk Services Group advising clients across a broad spectrum of industries and geographies. Prior to joining Mastercard, Alex led Royal Caribbean Cruises' Group responsible for business intelligence and payments.
Alex is a Brazilian Naval Academy graduate and holds an MBA from the University of Miami School of Business.
A native from Brazil, Alex currently resides in Miami Florida.